2 photos
Huyndai i30N Hatchback 2.0L Turbo Petrol T-GDi (2021)
Also referred to as: Huyndai i30N Hatchback 2.0L Turbo Petrol T-GDi 2022.
Listing monitored by Hyundai
Expert Review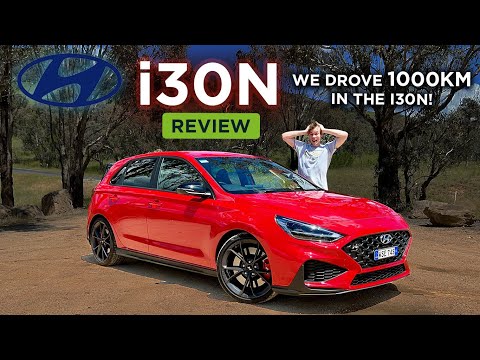 4.4 out of 5 stars
Introduction
I would be lying to you if I didn't say that this was the car review I've been looking forward to since I started working here at ProductReview.com.au.
The i30N holds a special place in my heart, as it's the effort of producing a car that's fun to drive and puts performance first over everything else.
You won't find me lusting after many Australian market 4x4s or luxury cars. Instead, I'm a sucker for a car that makes the most of the asphalt it rides on.
The i30N is just that. It's Hyundai's flagship performance car that made tsunami-like waves in the industry back in 2018, kicking the shins of hot hatch titans like the VW Golf GTi and Renault Megane RS.
For 2021, there have been a suite of updates that make the i30N better than ever, and quite possibly the strongest contender for my personal car of the year.
This is the review of the manual i30N, as I wanted to sink my teeth into the car itself for this review. After spending over 1000km behind the wheel of this car, I can certainly tell you the ins and outs of my experience with this fast Hyundai hatch. Then, in a few weeks time, I'll jump into the driver's seat for a week in the i30N DCT. That's potentially going to be the one most buyers opt for, but for now, let's enjoy the pure driver's engagement machine that is the i30N manual.
---
Build Quality
4.3 out of 5.
Where it counts, the i30N gets it right. The forged alloy wheels, paint, leather suede seats and trim pieces all look and feel the part for this $50,000 car.
I particularly loved the excessive use of soft-touch plastics on the dashboard and higher up on the door panels for that added sense of quality.
All of the i30N's buttons and physical interactions you as the driver have with the car feel premium. The base i30 is a quality car, and the i30N is no different.
What does become apparent are some small issues, like a slight split in the steering wheel leather, and rather large panel gaps on the bonnet, which might make some previous VW Golf owners wince a tiny bit.
Here's hoping the split leather was an anomaly, because everything else in this car was a treat, considering it's a hardcore hot hatch. Even in its most stiff suspension setting, the i30N never revealed any squeaks or rattles during my 1000km of driving. It's fair to say that the i30N does match its price for its build quality, but it's spent the R&D budget on performance enhancements rather than splashing a little extra leather and metal around the cabin.
Value for Money
4.8 out of 5.
The base i30N can be had in either manual or the new DCT for a mere $44,500 before on-road costs. I had the i30N Premium without sunroof, only available in manual, which retails for $47,500 before on-roads.
You can top out the range with the i30N Premium with a sunroof, available both in the manual and DCT again, which will set you back $49,500 before on-roads.
If you want to make the most of your i30N, get the Premium. It comes with lighter forged alloy wheels that save 14.5kg to the car's kerb weight. Additionally, the added leather and 2.2kg lighter bucket seats add even more to the cabin experience than the base cloth interior.
If the DCT turns out to be just as fun as the manual to drive, it'll be a little bit annoying that you can't get that transmission without the sunroof. As I've already committed to bucket seats and lighter alloy wheels, I don't want my centre of gravity to be any higher than it has to by adding in a sunroof.
Personally, this exact i30N Premium is the one to get. Packed with performance technology, adaptive suspension, a supreme driving experience, plenty of space for daily driving and not to mention the best exhaust noise in the hot hatch world - it's a complete sports car package.
It's affordable for what you're getting, and doesn't feel as if you're making compromises by opting for this hot hatch. You're getting features, power and practicality - as any performance hatch in 2021 should offer.
Maintenance
4.7 out of 5.
Hyundai offers its 5 year/unlimited kilometre warranty with the i30N, with services being capped over this period. Service intervals are 10,000km or 1 year.
The best part about buying a Hyundai is the volume of parts and accessibility of spares when things go wrong.
The i30N also is one of the only cars on sale in the world that offers a track day warranty. Meaning you can comfortably push your i30N out in the real world, without having to cover up your license plate for the track day photographer.
This is one of the best parts about buying an i30N, and it's the reason I nearly bought one a year ago too. I want to enjoy all facets of my performance car, especially on the occasional track day. Here, Hyundai not only makes a car that can do that, but encourages you to push it as well.
Noise Level
4.6 out of 5.
There are 3 features of Hyundai's noise profile. It comes in the form of the exhaust, engine and interior sound.
I'll get the elephant out of the room and say yes, this isn't going to be the quietest car for the highway. After 6 hours of highway time in the N, I was a little exhausted at some parts of the drone those Michelin tires make at high and constant speeds. It's a tire roar with what sounds like some restricted air in the wheel wells.
You'll need to crank the sound on the audio system to be able to make sense of what's being said on a podcast or phone call when driving over 100km/h. If you're a fan of a quieter cabin and refined audio, the i30N won't scratch that itch.
That doesn't matter much to me as a performance car enthusiast, as I'll make do with what's given to me. Add in the fact that you quickly get used to the louder cabin, unless you're jumping between the likes of an Audi or Genesis and into this.
The engine sound itself isn't too unique - it's a familiar sounding inline four-cylinder note similar to what you find on many hot hatches at this price point. What makes it exciting is the very large turbo situated just centimetres away from the front occupants and the exhilarating intake sound heard under acceleration.
What brings this segment to a mighty bang is the exhaust sound. Oh my, this isn't just your normal hot hatch, this is a unique beast. It takes advantage of a rudimentary form of anti-lag, which sends exhaust gasses back through the turbocharger when it's usually not spinning to keep it spooled for a more rapid response. You're going to get complaints from the neighbours, scare little children and laugh your head off when you open up this exhaust system in it's most aggressive setting.
No, the i30N didn't quieten down for 2021. Instead, I think it got louder. These massive tailpipes produce a sound fitting for their design. I love how easy it is to improve your day just by being entertained by the sound this car produces between shifts and on lift-off from the accelerator. It's very reminiscent of a rally car when popping and banging away while you enjoy your drive.
What makes it even better is that when you don't feel like being a hoonigan, you can just shut the valves enough so that you could take your grandma to church. It's the biggest selling point for me in just how loud and restrained this exhaust can be. Just like a good marriage counselor, it'll keep both you and your better half happy, regardless of who likes what setting more.
Braking
4.4 out of 5.
Updated for 2021 are the front brakes too. These used to be 345mm in diameter, but now are a far more responsive 360mm.
The bright red N-branded calipers are not just for show, but also a show of Hyundai's pride, seeing as these brakes have been developed in-house. This is rare for a car at this price point, as usually these brakes are easier to outsource to the likes of Brembo.
According to Hyundai, that could have driven up the price past what they wanted, and I also believe under ex-BMW M division lead, Albert Biermann, he wanted to do it in-house for more control and suitability for the car.
It works too! Around town, stopping power is immense, and that isn't exclusive to speeds under 100km/h. Slowing down from speeds of up to 120km/h, the i30N washed away this velocity with precision and stability. The initial bite isn't aggressive, but as you press through the brake pedal, you receive an exponential response from the car. I perhaps would have liked to have felt a little more immediacy in the brakes, but that would have been a trade off for a comfortable daily drive.
I do believe Hyundai's brakes are some of the best in the business here on the i30N, and are far from a trade-off compared to Brembos. I'd love to spend a few laps at a trackday to see if the lack of cross-drilled front brakes have any impact on brake fade.
Acceleration/Power
4.3 out of 5.
Here's the juicy part. Under the bonnet is a rally car inspired 2.0L turbocharged four-cylinder unit, producing a whopping 206kW at 6,000rpm and 392Nm at 2,100-4,7000rpm.
That's 139.4kW per tonne of power! Sure, 0-100km/h times aren't as rapid as a Golf R or a Toyota GR Yaris, claimed at 5.9 seconds for the manual.
However, I like to think of the i30N manual as the Porsche 911 GTS of the hot hatch world. It's geared for engagement and absolute performance.
It can settle down for a comfortable ride, still allowing you to access that mountain of torque for an effortless acceleration through town and out on the open road.
This torque delivery is unique too, as it's engaged as an overboost feature, meaning instead of dumping all of your peak power mid-way through the rev range, you're able to experience power right through to the redline. No more short shifts or awkward drops in power - the i30N's power plant delivers more than what you'd expect for a hot hatch.
It's still a very quick car, but it also allows you to use all of the rev range through to third gear without getting yourself into too much trouble.
There's a trick launch control system with a customisable rpm limit, but I found it to be confusing to engage at first. Also, I will have to admit launching a front-wheel drive manual car is not the smoothest of tasks, so I found myself enjoying low-rpm launches from a stop instead.
Gear Shifting
4.7 out of 5.
A slick, notchy and perfectly sized manual shifter is any driver's idea of paradise - especially when mated with over 200kW of turbocharged goodness.
There are 6 gears to choose from in this transmission, with first gear feeling slightly too short as usual for hot hatches with this much power.
Redline seems to creep up a lot quicker than you'd expect in the i30N when you get carried away, so you better make the most of those shift lights. Placed at the top of the driver's instrument cluster, you get 5 race car inspired lights that appear incrementally and increase in colour intensity as you approach redline. Before you have the chance to bang off the limiter, these lights all blink in unison indicating that you need to shift to the next gear.
What an awesome touch, and it's a lot better than just an audible beep or nothing at all.
Shifting is the peak of engagement in this car, with a bit of tech sprinkled on top via auto-rev matching. This is a button on the steering wheel, marked 'REV', allowing you to choose whether or not you want the i30N to blip the throttle between downshifts to make transitions between gears a lot more seamless. I'll admit I'm lazy and love this feature. I found myself more confident in downshifting at higher rpms and could focus more on pushing the car, rather than making the right heel-toe movement.
Gearing between 2nd and 3rd is a little odd thanks to that lower rpm redline. I found at speeds of around 100km/h on backroads, I was shifting frequently between the two to avoid bogging down too low in the rev range. I wonder if the additional 8 gears in the DCT will solve that, or only highlight constant shifting.
Suspension & Handling
4.6 out of 5.
What a treat the i30N is to take on some of the best back roads in Australia. A pretty common complaint is just how heavy this car is out on the track.
That's where the lighter i20N will come into play, and has proven to be more spry around some race tracks than the i30N. However, I never found myself lusting for a lightweight experience, as I thought the i30N was delivered as an enthusiast-focused machine.
The suspension in this hatch is adjustable three-ways, and it's certainly noticeable. The softest setting is still going to be too stiff for those who like the idea of a hot hatch but really need to move on into a fast cross-over. It's comfortable enough for myself and for passengers, and smooth enough to transport a delicate birthday cake and let my partner fall into a deep sleep - rare for many of the cars I test with her in the passenger seat.
When I want to awaken what I had for breakfast that morning, the stiffest setting works best. It's responsive, rapid, but surprisingly not spine-shattering like the Abarth 500 Esseesse is.
It translates what's happening on the road through to your buttocks and other senses quite well. Steering feel could still be improved, possibly by increasing the weight of the wheel to lessen the need for constant adjustments.
I had a brief drive of the pre-facelift i30N, and I can say with confidence that the wider front track and decrease in weight has done wonders to improve handling and performance. It's a point and steer experience, without having to put up a fight with under-steer or with an overly busy ride.
The mechanical limited slip e-differential works wonders to avoid the front wheels from consuming the driving experience with torque steer. Instead, it works with the front tires to put power to the road as you might hope, making the most of the power at hand rather than fighting it.
To quickly transform the driving experience, there are two blue buttons on the steering wheel: drive mode and a race flag button. The drive mode button cycles between Normal, Sport and Eco. Normal is excellent for daily driving without the theatre, and Sport and Eco are basically useless as you can have more fun in N mode and Custom. Eco is counterintuitive to what this car is - you bought the wrong car if you use Eco in an i30N.
The race flag button switches between the track-ready N mode, which turns off the vital safety system and turns the i30N up to its most aggressive form. Basically, it's ready to head out on track with other cars and show a Golf who's boss. Custom mode is a personal favourite of mine, as you can tune the car in a number of different configurations to suit your desired mode. I can have a comfortable ride and have a loud exhaust without having to upset my passengers all that much.
The drive modes are actually my number one selling point for the i30N, as the versatility of a car like this makes it the car that can most likely respond to any complaints one might have with a hot hatch. 'Make it quieter!' - sure! 'It's too bumpy.' - sorted. 'Can it do my tax return?' - not quite.
Fuel Efficiency
3 out of 5.
At over 12L/100km across 1000km of driving, this is a thirsty car.
Make no mistake about its appearance, you will be visiting the fuel pump frequently if you enjoy driving the i30N. I certainly noticed driving around and holding revs for all that exhaust noise goodness was a sure-fire way to reinforce the notion that cars burn a literal hole in your pocket.
However, with the i30N being able to enjoy 95RON, you can easily spend under $70 a tank - even in these pricing conditions.
Don't let a thirstier sports car put you off buying an i30N. Relative to a larger performance car or SUV, it's certainly manageable. If you did feel like you bit off more than you can chew, either enjoy Eco mode for all it's worth or step down to the i30 N Line.
Interior Design
4.5 out of 5.
Aside from a few performance touches, the i30N is pretty much all traditional i30 hatchback on the inside.
Up front, the biggest changes are the performance bucket seats (dressed in leather and suede), the instrument cluster, steering wheel and additional performance options in the infotainment unit.
The seats in here don't just look the part with their light-up N logo, but also do more than a great job of holding your body still through the tightest of corners. They're even set up to allow for the installation of a five-point racing harness if you wish.
With clear to read dials, the speedometer reaching 300km/h (even if the car is restricted to around 250km/h for its top speed), the instrument cluster is uniquely i30N. There's a tiny N logo in there, additional performance pages including a g-force meter and lap timer, and of course those useful shift indicator lights.
The steering wheel is perfectly sized, featuring N performance blue stitching, buttons to change drive modes and a little N logo on the 6 o'clock position.
The shifter setup is of course unique on the i30N, feeling more aggressive and purposeful than the one found in the i30 N Line. However, I really wish Hyundai got rid of that centre storage bin as it feels a little in the way of my elbow for shifts.
Instead, I wish that leather was placed on the door panels for extra elbow support, as hard plastic and hours of driving don't exactly mix well in that scenario.
With the infotainment screen, you're able to customise the driving experience and go all nerdy with additional performance pages and best of all, engage launch control.
Boot Size & Comfort
4.4 out of 5.
There's a minimum of 381L available here in the i30N. That's plenty of space for daily driving and even more. Two suitcases would fit perfectly in the back, with day bags able to be placed on top to make the most of the space back here.
Fold the seats down in a 60:40 split to reveal 1287L of boot space, and you have enough space to take a spare set of wheels and tires to the track and air them up using the 180W charge port in the rear.
The only thing is, the massive metal strengthening bar exposed in the rear for added chassis rigidity might impede on the smooth ingress and egress of large items, along with the large drop to the boot floor from the boot entrance.
As mentioned, comfort is possible and largely available if you're restrained in unleashing all that the i30N has to offer.
I had passengers both front and rear, all equally happy with no complaints about the space and ride quality. The only issue is for longer drives, as rear passengers lack any rear vents or USB ports which might make it a little less enjoyable for them. Additionally, the low mounting point for the bucket seats takes away foot room for larger rear occupants.
Features
4.8 out of 5.
While providing creature comforts like heated front seats, automatic headlights, wipers, keyless entry and exit, the i30N is a performance tech feast for those who opt for one.
It's packed full of car nerd features that only those who care can enjoy.
For a more comfort feature-focused car, Hyundai's N Line exists to cater just for you.
In this instance, the lack of some features isn't a loss for me; rather it's a trade-off that best suits this aggressive 5door hatch.
Here, you're spending money on features that are only intended to increase driver satisfaction and track times. Check out what you get for $47,500:
Engine
2.0L turbocharged inline four-cylinder petrol engine
206kW at 6,000rpm and 392Nm at 2,100-4,7000rpm
6-speed manual transmission with rev-matching
Infotainment
10.25-inch full colour touch screen
Apple CarPlay/Android Auto
6 speaker audio system
Safety
Driver Attention Warning (DAW)
Forward Collision-Avoidance Assist (FCA)
Lane Keeping Assist - Line (LKA-L)
Lane Following Assist - Line (LFA)
Performance
Eletronically adjustable suspension
Performance exhaust system
Mechanical limited slip differential
'N mode' and drive mode buttons on steering wheel
N-specific brakes
Shift indicator lights
Short-throw gear shifter
N-specific body kit and aerodynamics
N bucket seats
N forged wheels
Convenience
Keyles entry and exit/engine start and stop
Automatic headlights and wipers
Leather seats with light up N logo
Reversing camera
Should you buy one?
I nearly had pen to paper ordering a 2019 i30N a few years ago. That should already have you assuming what my answer to the above is.
2021 has only made the i30N better: it's more lightweight, more capable and leans even more into the sports car N brand Hyundai is quickly evolving.
In a field of competent competitors, the i30N stands out as the loudest one yet. For me, it has everything I'm looking for in a hot hatch. It's beyond capable for my needs, it's practical, it's versatile and it makes me smile.
As modern day hatches get quieter, the N brand is focused on giving drivers a chance to end the petrol-era with an almighty exhaust bang.
It's engagement at its finest, and it's the car that transformed my feelings for Hyundai from a brand that's a bit meh to a brand that clearly is trying its hardest to produce the best products that you and I can afford. The plan seems to be working, and the i30N underscores that purpose.
It's built by enthusiasts for enthusiasts, and only makes me more excited to test the likes of the i20N, Kona N and i30N sedan.
If my day job wasn't borrowing cars to write about for you, I'd be out there tomorrow making an i30N work for me. So if you need your hatch to do everything and put a smile on your face, the Hyundai i30N Premium manual is my pick of the bunch.
About the author Cameron is our resident car expert. Aside being a source of knowledge about the automotive industry, he has also driven a wide variety of cars. From Porsche 911 GT2 RS's, through to a 1998 Toyota RAV4, Cameron has not only seen it all, but has most likely driven it.
Sorry, there are no reviews about Huyndai i30N Hatchback 2.0L Turbo Petrol T-GDi (2021) but you can read 81 reviews about Hyundai i30.
Write a review
Questions & Answers
Sorry, there are no questions about Huyndai i30N Hatchback 2.0L Turbo Petrol T-GDi (2021) but you can read 101 questions about Hyundai i30.
Get an answer from our members and Hyundai representatives
Details
Compare all 21
Hyundai i30
| | |
| --- | --- |
| Category | Hatchbacks |
| Release date | July 2021 |
Compare all 21
Hyundai i30
Visit official website
ProductReview.com.au has affiliate partnerships. These do not influence our content moderation policies in any way, though ProductReview.com.au may earn commissions for products/services purchased via affiliate links.