8 photos
4.5

from 37 reviews ·

View Statistics
Brand Manager for Kia?
Register now
and take advantage of ProductReview's Brand Management Platform!
Expert Review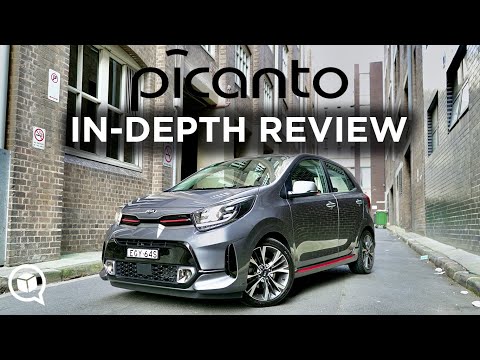 Questions & Answers
Picanto
Just picked up my 2021 Picanto and the rear brakes grind. The dealer tells me its normal. Does anyone else have this issue ? it occurs at low speeds only
Picanto
I was thinking of hiring a Kia picanto next weekend to go to golf. It is a 120km round trip on a highway and I was wondering whether with the back seat down it would be big enough to carry a set of golf clubs and a conventional buggy. Myself as the driver would be the only occupant .
Picanto
Is anyone else having problems with the Apple CarPlay system in their Kia Piccanto? Mine has NEVER worked and 10 weeks after getting my new car I am getting ZERO help in rectifying this. It is unreliable, frustrating and most of all unsafe! I don't even use it now ... just have a black screen and my phone between my legs to use for navigation.
Does anyone too have hideous experiences in dealing with Aftercare service and with Customer scare service. In my whole lifetime as a consumer I have never been treated so poorly.
So so disappointed.
2 answers
Has some minor problems with Apple Car play in new Piccanto but it was the phone not the car. Had to upgrade from an outdated Oppo Phone to a Samsung A 31 which was purchased from our local Betta electrical. Betta even came out to the car and set it all up. It can be a bit complicated and was glad an expert was setting it up...It works great now., just push a button on the steering wheel and tell it what you want...."Ring Mum"...."Play Taylor Swift"...same with addresses on maps....just push and hold steering wheel button and say the address....The map will come up. It will even do text to speech with messages.As for service and advice our local Kia Dealer where we purchased the car are always very helpful. I'd be looking at your phone and not the car....ours works perfectly.
So wrong Valerie .... absolutely NOTHING wrong with my phone .... After 10'plus weeks of battling with KIA Australia and they being absolutely unhelpful and appalling in customer service efforts, they admitted there WAS an issue in the Apple CarPlay system. They finally liaised with Apple and took back my car ... uninstalled the system... reinstalled with updates etc and now it is finally working perfectly.
The way KIA Australia treated me over that whole 12 weeks was absolutely disgusting.
See all

Kia Picanto

questions
Get an answer from our members
Details
Compare all 8
Kia Picanto
Category
Hatchbacks
Hatchbacks
Hatchbacks
Hatchbacks
Starting

Price

$17,790
$16,190
$17,990
$17,290
Transmission
Automatic
Manual
Manual
Automatic
Drive Type
Front Wheel Drive (FWD)
Front Wheel Drive (FWD)
Front Wheel Drive (FWD)
Front Wheel Drive (FWD)
Fuel Type
Petrol
Petrol
Petrol
Petrol
Wheels
16" Alloy
16" Alloy
16" Alloy
16" Alloy
ANCAP Safety Rating
4 Stars
5 Stars
4 Stars
4 Stars
Fuel Consumption
5.8 L/100km
5 L/100km
4.8 L/100km
5.8 L/100km
Fuel Tank

Capacity

35 L
35 L
35 L
35 L
Engine
4 Cylinder 1.25L
4 Cylinder 1.25L
3 Cylinder 1.0L
4 Cylinder 1.25L
Max Power
62kW @ 6000rpm
62kW @ 6000rpm
74kW @ 4500rpm
62kW @ 6000rpm
Max Torque
122Nm @ 4000rpm
122Nm @ 4000rpm
172Nm @ 1500-4000rpm
122Nm @ 4000rpm
Country of Manufacture
South Korea
South Korea
South Korea
South Korea
Manufacturer Warranty
7 year(s)
7 year(s)
7 year(s)
7 year(s)
Release date
Jan 2017
Jan 2017
Jan 2017
Jan 2017
Compare all 8
Kia Picanto
Visit official website
ProductReview.com.au has affiliate partnerships. These do not influence our content moderation policies in any way, though ProductReview.com.au may earn commissions for products/services purchased via affiliate links.