1 photo
Kia Cerato Hatchback GT (2018-2022)
Also referred to as: Kia Cerato Hatchback GT 2021 and Kia Cerato Hatchback GT 2023.
3.8

from 4 reviews ·

View Statistics
Brand Manager for Kia?
Register now
and take advantage of ProductReview's Brand Management Platform!
Expert Review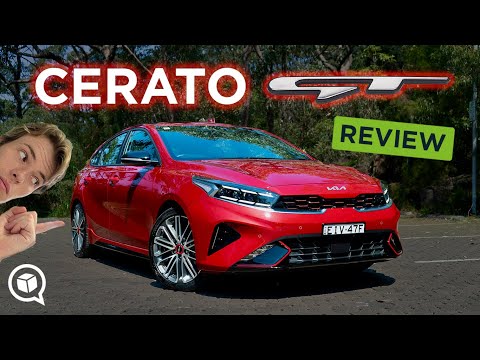 3.9 out of 5 stars
Introduction
It's Korea's answer to the VW Golf - it's the Kia Cerato.
Recently, Kia's updated the popular hatchback with a fresh new look and with some new features.
Now, more than ever, the Cerato is a formidable opponent of the non-performance VW Golf range, especially with the top-of-the-range Cerato GT.
It's not quite a hot hatch, but it's certainly a very warm one.
Let me explain why the Kia Cerato is deserving not only of your attention, but also deserving of being picked over its competitors.
---
Build Quality
4 out of 5.
For an affordable hatchback, I was taken back by how well the Cerato GT was built.
Sure, there are plenty of hard plastics found on the interior, but that's really it when it comes to what you would expect in a more affordable hatchback.
The exterior exhausts, panel gaps, welds and wiring looms are all examples of accuracy and precision - a testament to Kia's improved build quality.
The interior construction in modern-day Kias like the Cerato GT are extremely solid, with no movement of the centre console, squeaks or rattles found within this cabin.
Buttons are nicely damped, offering a soft press rather than a plastic-like click. Additionally, stitching is accurate, leather is of a high grade and the screens are crisp and bright.
Don't let Kia's history or price fool you, this is a very well-built product and the adage of a German-built hatch being better constructed is becoming less and less relevant.
Value for Money
5 out of 5.
The Kia Cerato GT Hatch starts from $36,990 drive away, however if you want this exact launch spec, you'll need to cough up an extra $520 for Runway Red paint.
For a similarly equipped and priced Mk8 VW Golf, you will be paying a lot closer to $40,000 to drive away.
$37,510 gets you all the possible upgrades you could imagine with the Cerato, with the main difference being you're buying a 7-speed automatic paired with a 1.6L turbo four cylinder. Additionally, you have a sunroof, heated/cooled seats, GT-specific steering wheel and seat, upgraded alloy wheels, sports exhaust pipes, multi-link suspension and Michelin Pilot Sport tires.
In short, the Cerato GT is one of the best value sports-orientated hatchbacks that you could rely on using day to day, with all the possible creature comforts you'd need in a daily driver.
Maintenance
5 out of 5.
For those looking to keep the Cerato GT for a long time, Kia has you covered. Instead of your run of the mill 5-year warranty, you're getting an extra 2-years, bringing the warranty period up to a 7-years/Unlimited Kilometre warranty.
You also have a capped price servicing program, which covers you for 7 years or up to 70,000km of driving. The total servicing cost for the Cerato GT over this period comes to a total of $3,234.
Here's a table with a breakdown for each service and the corresponding cost:
| Interval | Cost |
| --- | --- |
| 1 Year or 10,000 km | $275 |
| 2 Years or 20,000 km | $454 |
| 3 Years or 30,000 km | $354 |
| 4 Years or 40,000 km | $498 |
| 5 Years or 50,000 km | $309 |
| 6 Years or 60,000 km | $695 |
| 7 Years or 70,000 km | $649 |
| Total | $3,234 |
Hopefully additional coverage with this warranty helps retain the value of the Cerato GT into the future.
Noise Level
4 out of 5.
I was actually not at all disappointed with the Cerato GT's sound profile both outside and inside the cabin.
Starting with engine and exhaust noise, I was pleasantly surprised with the raspy and hot hatch-like sound this hatch produced. The 1.6L turbo four cylinder sounds angry under heavy acceleration, with purpose rather than sounding too strained.
In every hard shift of the dual clutch transmission, you get a nice little burble between shifts, reminiscent of VW's DSG 'fart' from their more powerful and more expensive GTi.
The upgraded JBL audio system brings a much needed depth, clarity and power over the standard system. There's even a speaker in the boot, which helps evenly spread the audio throughout the cabin.
When you're not racing around or blasting your favourite podcast, the engine does like to rev a little as it waits for the dual clutch transmission to engage. Outside that instance, it's relatively quiet here, but road noise is still a little noticeable with the larger alloy wheels fitted to the GT.
Braking
4 out of 5.
The larger than standard Cerato brakes fitted to the Cerato GT do a great job for 90% of your driving needs, with these brakes being the difference between a warm hatch and a hot hatch.
You get upgraded front brakes, to help slow down the faster GT, with a strong initial bite and excellent response. Just in case you miss an obstacle in front of you, the Cerato GT will activate its AEB system in case of an emergency.
The reason why the brakes aren't everything I could hope for is that when pushing the Cerato GT, I could feel a hint of brake fade. Sadly, this means if you want the GT to do absolutely everything in the sports car department, the brakes might fade a little faster than you'd like out on your favourite back road or on the track.
Acceleration/Power
3 out of 5.
Power is sourced from a 1.6L turbocharged four-cylinder petrol engine, producing 150kW and 265Nm. That translates to around 109kW per tonne, which is square in warm hatch territory, rather than hot hatch territory (usually in excess of 120kW per tonne).
The dual clutch transmission takes a second to engage, after that there's another delay from the turbocharger. Only after a few moments, while you wait for revs to build above 3,000rpm, the power surge starts, and you feel all 150kW power the Cerato GT as you'd hope it would.
It's not lightning quick, but it's respectable and it doesn't feel like you're lacking power in this trim. It's usable power, that you can have fun exploring, without having to stress about over-exceeding the local speed limit.
Gear Shifting
4 out of 5.
The 7-speed dual clutch transmission is the major difference, aside from the engine, compared to the rest of the Cerato range.
It needs a slight adjustment to make it a perfect match for daily use. The slight lag before engagement when in reverse and driving off the line can get a little frustrating.
Once you're on the move, the gearbox is a fun pairing to this engine. There are confident and quick shifts compared to the standard 6-speed automatic.
I prefer the 6-speed auto from a comfort point of view, but the dual clutch certainly provides a lot more engagement over that transmission. This is especially the case if you're shifting via the paddle-shifters, which have earned a place in the Cerato GT.
In 'Drive', the dual clutch is a lot more relaxed, unlike when you shift it into 'S' mode; this holds revs for greater responsiveness from both the gearbox and the motor.
Suspension & Handling
4 out of 5.
A major surprise with the Cerato GT was the upgraded multi-link suspension set-up. The Cerato GT felt solid, with amazing amounts of follow through in sharp corners.
With a capable set up like this, you can corner harder, with greater precision and road feel. Despite the larger wheels and stiffer suspension, the Cerato still is comfortable. I would put that down to not just the suspension, but also the GT sports seats which do a great job of holding you in place and providing additional support.
The Michelin Pilot Sport tires are grippy and are a welcomed overkill set of rubber for what the Cerato GT has to throw at them. It's a great tire option and a major plus in this price bracket.
Fuel Efficiency
3 out of 5.
Claimed combined fuel efficiency is 6.9L/100km, costing you around $70 a tank.
I saw that fuel economy figure cross 10L/100km around town, especially when I was trying to make the most of the Sport mode, dual clutch transmission and all 150kW.
It's a respectable and predictable fuel consumption for a car like this. The Cerato GT isn't for those whose main priority is fuel efficiency; I'd be shopping for something with either less power or an alternate drive train (i.e. hybrid) if you need to conserve that petrol.
Interior Design
3 out of 5.
Sadly, I wasn't as impressed with the Cerato GT's interior as I hoped I would have been. It's not flashy, but perhaps more importantly, it is usable and easy to navigate.
I would have preferred a little more design flair in here, like something similar to the Hyundai i30 Sedan. Instead, there's a far more practical approach to the Cerato's interior.
I appreciate the easy to navigate hard buttons, the large 10-inch touch screen infotainment and the space that this interior provides. There's nothing that's been added in here for the sake of design - form follows function inside the Cerato GT.
To partially satiate design nerds like myself, the Cerato GT has a GT-specific wheel, seats and carpet which add more sporty flair to this interior - the saving grace generates a sense of cohesiveness with those sporty highlights on the exterior.
Boot Size & Comfort
4 out of 5.
There's a massive amount of boot space found in the Cerato, as it's not a compact hatch. Infact, it's only a few millimeters short of being able to qualify as a small SUV.
502L of boot space is available with all seats folded up, with more available when you fold the second row in a 60/40 split.
It's part of the practicality of a large hatch like this; you have a cavernous amount of space, and more if you need it when transporting bulky items. It makes for not just a convenient daily driver, but also a spacious road trip companion.
Your friends and family will love riding in the back of the Cerato hatch, as it doesn't succumb to a sloping roofline for the second row. Instead, there's plenty of space for up to four adults to travel for long journeys. If you need it, there is a middle seat, but having 3 backseat passengers is when the second row will start to feel a little less comfortable.
Features
4 out of 5.
As the Cerato GT tops the range in the Cerato line-up, you're getting every option here - all you have to do is decide if you want to spend more for some different paint.
Here's a full list of options you get with the Cerato GT Hatch:
Engine
1.6L turbo petrol four cylinder engine
150kW and 265Nm
6-speed torque convertor automatic
Infotainment
10.25-inch touchscreen
Apple CarPlay/Android Auto
Bluetooth connectivity
Sat-nav
Safety
Autonomous emergency braking
Blind spot collision avoidance assist
Rear cross traffic alert and avoidance assist
Reversing camera
Performance
Drive modes
Upgraded front brakes
Sports exhaust
Convenience
Front heated/cooled seats
Keyless entry/exit and start/stop
Leather seats
Radar cruise control
Electronic hand brake
GT specific seats, steering wheel and carpet
Sunroof
Should you buy one?
Start off by understanding that this isn't a VW Golf GTi competitor, even if the power output is closing in on what that car offers.
Instead, it's aiming at all the hatchbacks that are positioned just below their hot hatch trims. That means you're getting comfort, technology and plenty of power for daily driving and a little bit of fun, but nothing that's going to replicate the feeling of a purpose-built sporty hatchback.
It's competitive in price, warranty, features and performance, which would have me recommend the Cerato GT for the top of your list when cross-shopping with other mid-range, 'warm' hatches.
It's refreshing to see a hatchback that's at the top of its game, without having to fork out a medium-SUV equivalent amount of cash.
About the author Cameron is our resident car expert. Aside being a source of knowledge about the automotive industry, he has also driven a wide variety of cars. From Porsche 911 GT2 RS's, through to a 1998 Toyota RAV4, Cameron has not only seen it all, but has most likely driven it.
Looks good but you'll change your opinion when you drive it.
So I bought this car after owning a Kia Stonic GT 2021 for a little while whilst I ordered the Cerato and had to wait another 6 months. I was happy driving the Stonic and found it had just about everything I would expect apart from blind side monitoring/alert. Couple of little quirks here and there but didn't bother be too much.
Once I took delivery the sales person told me that there was a recent software update to the car stereo system and so I won't be able to hear anything until I turn up the dial to volume 30 or above. Quite suspicious b...
Read more
ut at the time I thought Im sure they will release a fix for it. 7 months later and no word of a fix. Next he told me that I could permanently turn off the extremely annoying Lane Keep Assist but once again that was a pack of lies as this resets itself every time you turn off the engine. Once I started driving and noticed the ride quality was quite ordinary, feeling every bump on the road I thought ok maybe its because of its sport tuned suspension but I think its just the fact we have shoddy roads here in Melbourne and these cars aren't built to absorb that very well. Started driving in the rain and I thought being the top of the range Cerato I would expect the wipers to come on automatically just like they did in the Stonic which is around $6000 less but NOOOOO! I was shocked to say the least. So here I am going back to the 20th century and having to constantly turn them on and off or adjust the timing. What a disappointment! Then all of a sudden every time I slow down I hear a clunking noise, is this the DCT? It happens when I moving slow within traffic and the gears go up and down and when I slow down. Once again not happy with the build quality. My 1991 Honda Prelude was built better than this car. First and last time I will be buying a KIA.
Purchased in for $37,000.
Build Quality

Value for Money

See all answers
Similar opinion? Write a review on ProductReview.com.au!
best car i have ever bought. kia got it right for this car. it handles great and really keeps you safe with all the bells and whistles going off all the time. hopefully they will keep making this car.
Purchased in for $35,500.
Build Quality

Value for Money

See all answers
Similar opinion? Write a review on ProductReview.com.au!
Good Car but Buyer beware of the Turbo version when starting the vehicle
We purchased a Kia Cerato G/T Hatch (Turbo version) in 2020 and have been happy with it to date except for one annoying thing. When vehicle's engine is cold or hasn't been driven for quite a few hours and u go and start it, the engine runs rough for a minute or 2 (idles rough and doesn't sound good) then after that time it runs fine. Spoke to the Dealership and they indicated that it is "normal" for the Turbo version to do this as it's a design feature to help it warm the engine up quickly... To me this is rubbish as I don't know of any other m...
Read more
anufacturer that uses this method to warm up the engine quickly. It becomes annoying when u want to hop in the car and head off straight away and the vehicle doesn't respond or drive well in this situation until this feature has run its course... Over time this issue may cause us to sell the car earlier than planned
Purchased in .
Build Quality

Value for Money

See all answers
Similar opinion? Write a review on ProductReview.com.au!
Probably will go down as the best car I've ever owned
We bought a steel grey Cerato GT Hatch on June 30th 2019.
Paid $31,500 with factory floor mats included.
So now we have 3000kms on the clock here's my likes.
Love all the electronic safety gear.
Autonomous cruise is awesome and the two seat memories too.
We love the interior, the phone charger and the keyless entry are nice.
The engine is great, we use it in automatic drive mode so the car chooses the driving mode according to your driving style.
Currently the fuel economy (accumulated) is 6.9 L per 100 kms.
The dislikes:
The road noise on particular road surfaces is louder than our Dmax....
Read more
The front parking sensors have to be manually turned on when needed. No rear hatch opener from the drivers seat. Overall this car is amazing and well worth the asking price. There are a lot more pluses like the 7 yr warranty etc but do your research (YouTube is good) and you will see what I mean. The DCT does react differently to a normal automatic transmission but it's easy to get used to and not something to worry about. Thumbs up to Ipswich Kia for the most easy going, genuine low pressure sale ever. That's saying something because I'm not a big fan of car salesman due to bad experiences in the past.

Purchased in for $31,500.
Build Quality

Value for Money

See all answers
Similar opinion? Write a review on ProductReview.com.au!
Find out how Kia Cerato Hatchback GT compares to other Hatchbacks
Know better, choose better.
Compare all
See all Kia Cerato reviews
Questions & Answers
Cerato Hatchback GT (2018-2022)
Good day. On initial cold start My GT idles very rough and well over 1000rpm. It settles down after about 10 minutes of driving. Has anyone
Experienced this and what was the remedy. Thank you.
5 answers
Yes, my 2019 Cerato GT has done does this after every service. It blows a lot of smoke until it gets to optimal operating temperature. I questioned the fuel additive used during each service as it's c...
Read more
ommonly known in the auto industry to cause O2 sensor or cat converter problems if it's not the correct type. I will be calling them tomorrow as my engine light came on yesterday. I was advised by Kia the last time this happened to run 2 tanks of 91 through it
Thank you. I assume you use E10 fuel as recommended. Would be interested to hear of the outcome when you call Kia re the engine light.
Car has been with the dealer since Monday. They are trying to tell us that the misfire on cylinder 2 and 4 is from bad fuel. My husband was advised by the service manager today to use 98 in the vehicl...
Read more
e. It's been throwing fault codes on every test drive.
Cerato Hatchback GT (2018-2022)
My 2013 KIA Cerato Hatch on-board computer display screen has gone black and doesn't switch back on and my radio cuts in and out even when i mute or switch the radio off after few mins its on again and at the same volume and the same radio station i cant change any of my settings at all I also have no revers camera
i hope there is a way to fix this without replacing the computer unit because i don't think that has helped others since the problem still occurs
5 answers
Please stop asking me questions about the Cerato. I am a car aficionado, not an expert. If my correspondence isn't good enough to be one of your ambassadors it certainly falls short of answering your followers' questions, as well. Thank you.
I came to this site seeking answers to my problem i wasn't expecting to be treated with such disrespect from someone on a site that is meant to be helpful
Hi Laura. What was the resolution for the issue with your Sat Nav? I have the same issue with my Sat Nav unit.
See all

Kia Cerato

questions
Get an answer from our members
Details
Category
Cars and Hatchbacks
Starting

Price

$31,990.00
Transmission
Automatic
Wheels
18" Alloy
ANCAP Safety Rating
5 Stars
Fuel Consumption
6.8 L/100km
Engine
4 Cylinder 1.6L
Max Power
150kW @ 6000rpm
Max Torque
265Nm @ 1500-4500rpm
Release date
Visit official website
ProductReview.com.au has affiliate partnerships. These do not influence our content moderation policies in any way, though ProductReview.com.au may earn commissions for products/services purchased via affiliate links.