3 photos
Kia Picanto JA GT-Line (2017-2021)
Also referred to as: Kia Picanto JA GT-Line 2020 and Kia Picanto JA GT-Line 2022.
4.0

from 5 reviews ·

View Statistics
Brand Manager for Kia?
Register now
and take advantage of ProductReview's Brand Management Platform!
Expert Review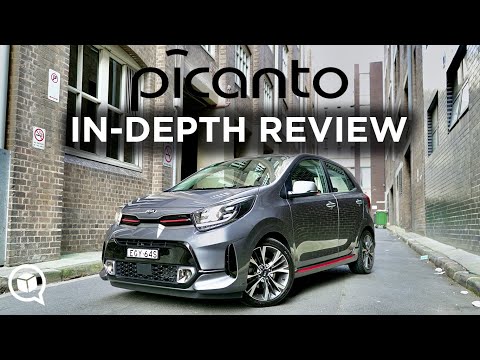 3.8 out of 5 stars
Introduction
You've just laid your eyes upon the micro-car class leader. There, I said it.
I've been driving a micro-car segment vehicle for the past 10 years, so I know the type of small improvements micro-cars need in order to be ideal for the daily commute.
Let's jump straight into what makes the 2021 Kia Picanto GT-Line the best inner-city mobile that you can buy today.
---
Build Quality
4 out of 5.
You get certain elements of the Picanto that you would expect at a price point of around $20,000. However, Kia doesn't make you feel bad for spending less on a new car. The GT-Line offers all the luxury appointments to make you feel like you're stepping into a vehicle more luxurious than the price tag suggests.
The exterior is tasteful and sporty, featuring red highlights along the grill, side skirts and a rear bumper. It's not all fake either as there are a pair of functional vents in the front bumper which can aid with smoothing airflow around the up-right front end.
The paint, panels and exterior fit and finish are of high quality. Doors close with a decent 'thunk' and the door handles feel sturdy instead of 'tinny'.
When you first lay eyes on the interior, the most noticeable features are the colour-matched seats, which showcase red stitching and bolsters to help compliment the sporty exterior.
On the downside, there are hard plastics found on the dashboard, doors and around the centre console area. Plus, you can't avoid the cheap sounding impact noise when the sun-visor slams against the roof. However, it's worth noting that these materials will withstand scratches and sun-damage a lot more than materials such as leather will. This should provide some peace of mind if you share the car with drivers who may not take the same care as you do when getting in and out of the car, or if you need to leave the Kia outside.
The quality of the major touchpoints stand out. The centre screen, shifter, centre armrest, door cards and steering wheel are all pleasant to engage with.
There are some creaks and rattles when driving, but these aren't beyond what you'd most likely encounter in most cars. Kia hasn't completely made the Picanto a flawless budget car, but they have gone a long way in achieving that.
Value for Money
4.3 out of 5.
Value for money is where the Kia shines. Our test vehicle was $21,010 since this was the middle of the range GT-Line, an automatic and came with 'special paint'. Our special paint was 'Astro Grey' which gave the Picanto a stealth look, blending in well with an urban landscape.
You can get into a Picanto for as little as $17,990 (drive away), which is exceptional value for money compared to other new cars. In particular, Toyota, has the new Yaris that starts at $25,000 (drive away).
We've yet to get our hands on the cheapest new car on the market, the MG-3 ($16,000). Therefore, we'll reserve judgement on labelling which micro-car is the best value for money.
Let's run through the features that made this car excellent value for money: The car contains 16-inch alloy wheels which also feature disc brakes on all four wheels. In comparison, the MG-3 only has disc brakes on the front.
The exterior styling was appealing enough for strangers to enquire about the car. The quad-LED day-time running lights were a welcomed addition, as well as the automatic halogen headlights.
Inside, you have electronic folding mirrors (although they have to be manually operated as they don't operate with the unlock/lock function of the car), wireless Apple CarPlay/Android Auto, cruise-control and a full leather interior.
It's a car you can be happy you spent $21,000 on since it feels like a luxury small car in this GT-Line spec. I guarantee you'll raise eyebrows when you answer the question, "So, how much was this?"
Cleaning and Maintenance
4 out of 5.
Cleaning the Picanto is an entertaining affair if you're coming from a larger-proportioned car (which is almost certain, unless you've been driving a Morris Minor for the past 5 decades).
You'll never have a dirty roof as most owners should be able to clean it with ease. In fact, you can clean the entire car in less than 20 minutes since it's a miniscule vehicle.
Maintenance is where the price-point really kicks into gear.
As the sticker placed on the rear window suggests, you get a standard 7-year/Unlimited kilometre warranty with the purchase of the Picanto.
If you're looking to regularly maintain the Picanto, here's a year-on-year and total price breakdown of each service interval:
1 Year or 15,000 km $280.00 2 Years or 30,000 km $461.00 3 Years or 45,000 km $335.00 4 Years or 60,000 km $504.00 5 Years or 75,000 km $315.00 6 Years or 90,000 km $577.00 7 Years or 105,000 km $334.00
This comes to a total of $2,806.00 over 7 years of ownership or 105,000km of driving.
If I spent this amount on servicing my car over the past 7 years, I could confidently say that it's good value for money. I'm sure you'd agree if you, too, having owned a temperamental European car for more than 5 years.
Noise Level
3.6 out of 5.
The noise inside the Picanto was surprisingly muted for an economy car fitted with a four-speed gearbox.
I was expecting plenty of noise intrusion from the road and engine, but instead, I was met with a very relaxing cabin space. There was no need to project my voice over excessive noise bleeding into the cockpit.
That being said, you are going to notice some noise as this isn't a Rolls Royce Ghost - especially when you are digging into the throttle to get a bit more power and speed out of the micro-car.
Even though the engine was sitting at above 3,000rpm thanks to the lack of additional gears, at highway speeds, the cabin remained relatively muted. This was surprising considering that 3,000rpm in my own car sounds as if it is begging for a gear change.
The speakers are relatively crisp, clear and are able to hold out from rattling most of the time when you want to crank up the bass. It's easy to jump into your favourite podcast or answer a phone call. However, the quality of the microphone used in the Picanto wasn't amazing as it was obvious I was calling from a $20,000 car. It's passable, but not clear for those on the other end of the line.
Braking
4.1 out of 5.
The best thing about driving a car that weighs a smidge over 1 tonne is the braking ability.
All four wheels have disc brakes fitted, that means it's already ranking better than the MG-3 which only has discs at the front.
There was no hesitation in the braking ability of the Picanto with just one occupant in the car. This little commuter can pull up to a complete stop quicker than you may expect.
This can translate into a jerky feeling for passengers when the driver decides to hook on the anchors. However, over time, you should become accustomed to driving lighter, smaller cars with this kind of braking ability.
Acceleration/Power
3 out of 5.
Hmm… can we skip this part?
Honestly, the Picanto's performance isn't impressive on paper, but when it comes to real world driving, it's as shocking as being overtaken by a Razor scooter on the highway. We're working with a 62kW, 122Nm naturally aspirated (non-turbo) petrol four cylinder. Yikes.
While you shouldn't bet on winning drag races in the Picanto, what is interesting is that because of its lightweight, the Picanto carries a power to weight ratio of 61kW/tonne. This actually makes its ratio closer to cars like the Nissan Juke, which have a more powerful and turbo charged motor.
Paired with four speed automatic transmission, this lets you launch from the lights at a decent pace. Yes, the motor is going to rev and complain along the way, but it gets the job done.
I was even brave enough to take the Picanto on a long stretch of highway with a posted speed of 110km/h, which it carried without a problem.
You just need to know that people don't like being overtaken by a Picanto - here's why.
The lack of power in the Picanto actually works in its favour, as the tyres never really have enough power to spin or chirp when under load. This means that you can whip around the city and head up to highway speeds with surprisingly little concern that you're 'underpowered'.
That being said, don't expect this to remain true with four adults in the car, or when you fully load up the Picanto with luggage and need to tackle an uphill stretch of road.
Gear Shifting
3.7 out of 5.
It's a four speed automatic. This isn't really a highlight spec on paper, but again, the Picanto surprises here.
Can you imagine a worse pairing when coming up with your ideal car? It has as many gears as a 70s muscle car, and half as much power as some of its competitors.
Don't let these specs fool you - the Picanto is a more than capable vehicle, especially with this automatic transmission.
Kia has absolutely nailed the gear selector software here, with shifts largely going unnoticed, and the car never being indecisive on what gear it should be in.
Sure, it could be down to working with less gears, but I can confidently say that the Picanto can change gears better than some cars that are five times the price.
I really don't like the look and layout of the shifter - the plastic gates make it look more outdated than those of its rivals. You can argue that this makes it easier to feel which gear you're in, but you can already do this by seeing the direction you're about to travel in in the gauge's digital display.
Kia is very aware that sometimes the engine and gearbox might not be best suited for some conditions, and gives you the option in the Picanto to manually change between first through to third. This can be handy, but I never needed to access these gears, even when the car was presented with a more challenging section of road.
The Picanto is fitted with a fairly crude version of cruise control, which makes long trips a lot more bearable.
Suspension & Handling
4.1 out of 5.
Kia boasted the Picanto's development on local roads in its marketing, and it took all of 10 minutes of driving to know that this was true.
Have a look at those wheels and tyres - do you think the Picanto could be just as relaxing as an SUV double its size? I sure couldn't have known that by looking at the car, as the combination of tiny rubber wrapped around tiny alloy wheels makes it seem like you could be in for a bumpy ride.
However, I was incredibly impressed with the overall feel of the car across a multitude of surfaces; it handled everything from inner-city pot-holes to sweeping turns at high speeds.
The Picanto absorbs rough surfaces without upsetting the ride and experience for the vehicle and passengers.
I found myself testing the limits of this car's ability to soak up bumps, particularly potholes. I'd aim square for a pothole, and while it was obvious that I'd driven over a hole in the road, it did so in the same manner a far more expensive car would - without fuss and without disturbing the drive.
Cornering was as entertaining as spinning a golf cart around the parking lot of a club. Steering was direct and to the point, with the front wheels carrying the car through a corner without wallowing or pitching too aggressively.
If there is one key feature that makes you consider a Picanto, it would be the suspension - it's simply the most advanced piece of equipment on this vehicle.
Fuel Efficiency
3.6 out of 5.
Fuel efficiency is the Picanto GT-Line's weakest link.
A naturally aspirated petrol motor with limited gears to choose from is going to drink a fair bit of fuel, no matter how you drive it. Limited power means more full-throttle episodes, or at least having the accelerator pedal stuck at 50% for most of your driving.
Kia claims you'll receive a combined consumption rate of 5.8L/100km, whereas I achieved a little bit more than that, at around 8L/100km.
However, I was predominately driving in the city (with some highway driving in the mix), which means I was a lot closer to the claimed city consumption rate of 7.9L/100km. So, it's fair to say that it's pretty on point with fuel consumption.
What quickly becomes apparent is the smaller onboard35L tan, which drains at a significant rate when driving on longer sections of highway.
A two and a half hour trip saw my full fuel gauge drop down to just under half a tank. To compare, my Abarth 500 barely drops past a quarter of the tank on the same stretch of road. This means the Picanto certainly deserves one more gear to help with fuel consumption on longer trips.
Interior Design
4 out of 5.
Inside of the Picanto, you're met with an abundance of space up in the front. A flat and quickly recessed dash layout provides plenty of leg and knee room for the front occupants,which makes travelling in the Picanto fairly comfortable.
The seats in the GT-Line match the exterior's red accents, giving the interior a bit more flair.
The dials are easy to read, the buttons easy to access, and with two digital displays, it's exceptionally easy to become accustomed to the Picanto.
The main focus is on that 8 inch colour display in the middle, which is really designed solely for phone projection, as you won't find an inbuilt navigation system provided as standard for the Picanto GT-Line. We'll get to how that connection with the screen went in a moment.
There are quick buttons below the screen to access various menus, and there's even a custom-mappable button there too.
Below that, are washing machine style air-con controls which do look a little bit low budget, but overall, they do a great job of doing exactly what is expected of them.
You'll have to make do with just one USB port to connect to up front, which might feel a little limiting over long journeys. However, seeing that Apple CarPlay and Android Auto are wireless, this should be less of an issue than it appears.
There's also a very cute and adjustable armrest and centre cubby which was greatly appreciated, not only for comfort, but also to secure small items that have a tendency to fly around the cabin.
Backseats are a little tight for those with longer legs, and there's even a wishful third seat. You'll be able to carry four adults in here, or even children thanks to the ISOFIX points that are easy to access in the rear seats. You just might find yourself having to sit a little more forward in the front row, to make room for the backseats and to avoid having knees protruding into your back.
Now, about that wireless Apple CarPlay. This isn't the first vehicle I've tested with this feature, the Isuzu D-MAX comes with this as standard. It's an impressive feature for this price point, however, I just couldn't maintain a stable connection to the screen for long periods of time. Every so often my phone completely lost visual connection, requiring me to reconnect, which was quite annoying, even if my audio didn't cut out with the loss in connectivity, thanks to bluetooth. All of this translated to needing to reconnect with the screen, just to view map directions and interact with Apple CarPlay.
I even had an instance where, despite both resetting my phone and the car, the Picanto simply refused to recognise my phone. However, after completely turning off the car and back on again after some time, I was able to get back to my regular, somewhat patchy, connection to the Picanto.
I hope Kia can sort this issue out, as if this car was being driven by some of my less tech-literate friends and family, this issue could drive them to have a deep dissonance to the otherwise amazing Picanto.
Boot Size & Comfort
3.7 out of 5.
The Picanto packs a punch with its cargo-carrying capacity.
The boot, with all seats remaining in place, comes in at a handy 255L! This offers plenty of space for heading away for a weekend trip, without needing to fold those rear seats.
If you do need more space, you can fold the rear seats in a 60:40 split. This means you can carry four people (although a very tight fit as front passengers need to make room for backseat passengers), and have cargo come through the cabin of the car. The ability to fold the seat this way is handy for parents with a baby seat in the back.
Completely folded, the complete cargo capacity of the Picanto comes in at 1010L. For a car that's just over 3.5M in length and 1.6M in width, that's fairly usable. A boxy design with a large hatch opening means trips to IKEA are beyond feasible.
Superior comfort has been alluded to throughout this review, and it's true. If I needed a city-sized daily, I'd be hard pressed to find an alternative to a Picanto. With its easy to operate infotainment system, accompanied with leather seats, a plush yet firm ride, and ample amount of power for heading out on the occasional encounter with a highway, the Picanto becomes a very nice place to be.
Its cute proportions make you want to navigate the inner-city alleyways that would otherwise induce a claustrophobic panic attack in those riding in a Golf. The turning circle in the Picanto is virtually unrivalled, which translates to it being able to conduct a three point u-turn in a single car width lane-way with ease.
Think golf-cart, but with crash-safety standards, and that's also able to drive in the rain.
Features
3.8 out of 5.
Bargain of the year? Check out what you receive when you buy one of Australia's smallest and cheapest new cars on the market.
Highlights include a reversing camera and sensors, cruise control, wireless Apple CarPlay/Android Auto and leather seats.
Engine
1.25L 4 cylinder naturally aspirated (non-turbo)
Power: 62kW/122Nm
4-speed automatic
Infotainment
8" colour touchscreen
Wireless Apple CarPlay/Android Auto
Bluetooth
AUX/USB inputs
Safety
Autonomous Emergency Braking with Forward Collision Warning
Reverse parking sensors
Reverse parking camera
LED daytime running lights/halogen headlights
Performance
x4 disc-brakes
Front suspension - Macpherson strut
Rear suspension - Coupled torsion beam axle
16" alloy wheels
Convenience
Remote central locking
Cruise control
60/40 folding rear seats
Leather seats and leather centre arm-rest with centre storage
Should you buy one?
There are two ways to look at this question.
Absolutely yes, if you need a commuter car and live in the inner-city, or want a new car that feels like it's actually made in 2021, rather than something that feels like it was made back in 2005.
If you're going to rely on the Picanto for long road trips, and lots of highway driving, possibly look elsewhere. Take it for a drive and consider if you think you can live with this car for that specific purpose. If you're keen to use this for highway driving might need to spend a little more for the GT variant, and get used to driving stick as manual is the only option for that turbo-charged motor.
The Picanto is a shining gem of ever increasing prices of new cars, as it represents fair and decent value for the price you pay. You get safety equipment, you get a usable infotainment system (when it works), and you get luxury appointments, all packaged in what feels like all the car most people need.
If you're considering a first, second or replacement car, and live in a major city, place the Picanto at the top of your list when checking out new cars that you can find plenty of parking for, and won't have you sweating those monthly repayments.
About the author
Cameron is your typical car nut, but also drives and writes about cars for ProductReview.
Questions & Answers
Sorry, there are no questions about Kia Picanto JA GT-Line (2017-2021) but you can read 13 questions about Kia Picanto.
Get an answer from our members
Details
Compare all 8
Kia Picanto
Category
Hatchbacks
Starting

Price

$17,290
Transmission
Automatic
Drive Type
Front Wheel Drive (FWD)
Fuel Type
Petrol
Wheels
16" Alloy
ANCAP Safety Rating
4 Stars
Fuel Consumption
5.8 L/100km
Fuel Tank

Capacity

35 L
Engine
4 Cylinder 1.25L
Max Power
62kW @ 6000rpm
Max Torque
122Nm @ 4000rpm
Country of Manufacture
South Korea
Manufacturer Warranty
7 year(s)
Release date
Jan 2017
Compare all 8
Kia Picanto
Visit official website
ProductReview.com.au has affiliate partnerships. These do not influence our content moderation policies in any way, though ProductReview.com.au may earn commissions for products/services purchased via affiliate links.