2 photos
Kia Rio YB GT-Line (2016-2022)
3.3

from 4 reviews ·

View Statistics
Brand Manager for Kia?
Register now
and take advantage of ProductReview's Brand Management Platform!
Expert Review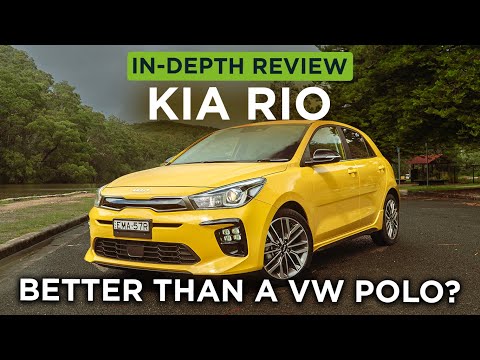 4.1 out of 5 stars
What is it?
Ever since the SUV craze took over the car industry, small and affordable hatchbacks have slowly become less and less common.
Everyone wants to ride higher, wants more interior space and wants to feel safe when driving.
The 2022 Kia Rio gives you two of those things, and is actually fun to drive thanks to it being lightweight and lower to the ground.
If you have a $30,000 budget to spend on a quality small hatch, should you buy this bright yellow Kia, or head to a VW dealership to put money down on its direct rival, the VW Polo?
Let's find out.
---
Build Quality
4 out of 5.
When cross-shopping with a German car, you might think the Kia would come out in a hard second place. Well, it's a little less dramatic than that.
Sure, the Polo has a far more conscious use of softer materials to avoid the occupant having to touch as many 'cheap' plastics as possible. However, the Kia Rio feels solid both inside and out;
no odd squeaks or rattles make themselves known when poking around the interior or over coarse sections of road.
If it weren't for the acres of 'scratchy' plastics found on the inside of the Rio, it would be almost on par with the Polo in its construction.
How Much Does it Cost?
4.7 out of 5.
What you're looking at is the top-trim Kia Rio, which is called the GT-Line. The Rio range starts off at $21,490 for the base model, and tops out at $27,990 drive away.
For what's on offer, I believe this is a killer deal for a small hatchback like this.
Combine a plethora of safety features, a very usable infotainment screen, enough space for four adults, a turbocharged inline three-cylinder motor, and some aesthetically pleasing bits of GT-Line trim, and you have an excellent all-round daily driver.
Warranty and Servicing
5 out of 5.
Kia offers a 7-year warranty/unlimited kilometre and a 7-year capped price service period.
It's one of the longest and most comprehensive warranty periods on offer today, making this a major plus point when considering the value this car brings to the table.
Over this period, servicing will set you back $3299, again reinforcing the value that Kia is trying to convey by being as transparent as possible about its running costs.
Although, with servicing being capped at 70,000km of coverage, it's realistically only going to cover you for up to 4 to 5 years if you drive longer distances in this little hatch.
Here's a full breakdown of each service and their respective cost:
| Interval | Cost |
| --- | --- |
| 1 Year or 10,000 km | $282 |
| 2 Years or 20,000 km | $484 |
| 3 Years or 30,000 km | $338 |
| 4 Years or 40,000 km | $704 |
| 5 Years or 50,000 km | $319 |
| 6 Years or 60,000 km | $602 |
| 7 Years or 70,000 km | $569 |
| Total | $3,299 |
Noise Level
3.7 out of 5.
I'm not going to kid you and say that the audio system in the Kia is as good as the price you'd pay for this car. Instead, it's more akin to the listening experience you have when some mates bring a speaker to a summer backyard BBQ.
If you're down for listening to a newly released album, it's not the ideal place to hear the entire depth and range a song has to offer. But, if you're looking for some speakers to 'vibe out' to, these fulfill that job nicely.
Be prepared to turn that audio dial up just a little bit, as road noise can be a little excessive on rough sections of tarmac.
Braking
3.9 out of 5.
Four disc brakes on all four wheels is a good start - surprisingly, there are some small hatches that still rock drum brakes on the rear.
The brake pedal feel is ideal for daily driving. It's a little soft if you plan on pushing the Rio like a hot hatch, but it does mean that it's far too easy to operate in heavy traffic. You're far less likely to experience that initial 'jerk' when applying these brakes.
The autonomous emergency braking system is alive and well in this car. It's a fine system that's soft on the brakes when it decides it needs to step in. It provides additional confidence that your Rio is on the constant lookout to keep you safe.
Acceleration/Power
3 out of 5.
The Rio might not look fast on paper, but in some ways, it's a bit of a riot if you want to exploit every drop of horsepower from this 1.0L three-cylinder petrol motor.
1.0L is pretty small when it comes to engine capacity, yet things can change when you throw a turbocharger into the mix.
Producing 74kW and 172Nm (61.8kW per tonne) versus the VW Polo's output from its own 1.0L motor of 85kW and 200Nm (73.7kW per tonne) - the Rio has 13kW per tonne less in its total output compared to the Polo.
This is no hot hatch, but it comes close to being called a 'warm hatch'. What lets down this car is its 7-speed dual clutch transmission. Downshifts (even in manual mode) are just a little too slow, and the delay between stomping on the accelerator and actually moving is frustrating.
Gear Shifting
3.5 out of 5.
This particular 7-speed dual clutch automatic transmission is just that little bit too unresponsive when you want to drive a little faster from a standstill. This is especially the case when using the engine start/stop feature at a set of lights.
Moving at regular speeds and around town, there's a seamless transition between gears. Although, you do have to get used to the more aggressive 'creep' this gearbox offers, after releasing the brakes.
The electronic limiters on the gearbox make downshifting manually a dull experience, as the engine is preserved from ham-fisted shifters like me.
Suspension & Handling
4.3 out of 5.
Weighing in at a mere 1197kg, the Rio is already a candidate for effortless cornering. Throw on a set of sticky tyres like these Continental ContiSportContacts, and you have a recipe for handling success.
Even in slippery conditions, the Rio is predictable and rarely wants to understeer (unless you turn off its safety nannies).
A weighted steering feel helps you avoid any guess work of where the wheels and tyres are pointing. But the amount of feedback is limited if you're seeking that sort of engagement.
It's a great example that a slow (but light) car can be more fun than a more powerful SUV driven in the same manner.
Fuel Efficiency
4.2 out of 5.
Despite only packing 3 cylinders, the Rio can be a little thirsty on the daily drive.
Combined claimed consumption is 5.3L per 100km, however, I saw figures averaging as high as 9L per 100km. That figure was recorded over 300km of driving through a mix of urban and highway driving.
Expect to pay around $76 to fill the Rio from empty, using 91 octane fuel.
Interior Design
4.5 out of 5.
At first glance, there's a lot going on inside this Rio's interior.
The key features here are headlined by some carbon fibre look trim, GT-Line badging, a flat bottom steering wheel and an 8-inch touchscreen.
If you're a sucker for attention to detail, you'll appreciate how every line and contour extends past the dashboard through to the door inserts. This is better than having completely different interior designs on the door, compared to what's been designed on the dash.
Overall, the GT-Line trim adds much-needed flair inside here. Without these 'sporty' seats, steering wheel, shifter and pedals, it might just feel slightly drab.
Boot Size & Comfort
4.1 out of 5.
There's 325L of boot space with all the seats up available. If you fold the 60:40 seats down, you get a whopping 980L of storage in a car the size of a postage stamp, relative to SUVs being sold around this price range.
It's a pretty average boot space, nothing too crazy going on here.There's a slight boot lip that makes dragging larger items in and out a little harder. But I do like the large included boot cover to deter prying eyes from seeing what's going on back here.
The back seats are a little tight for adults, but they are usable for longer trips. Four adults can travel inside the Rio just fine, and in relative comfort. Just don't get any ideas trying to stuff a third adult in the middle seat, unless you're a team of competing contortionists.
Features
4.3 out of 5.
Despite costing less than $30,000 in 2022, the top-of-the-range Kia Rio offers plenty of equipment for the price.
I would have liked to have seen radar cruise and heated seats to really top off the feature list.. However, we can live without them, and there are still key items on offer, like wireless Apple CarPlay and active steering assist/active lane-keep assist on offer.
Here's a full list of features you can get on the Kia Rio GT-Line:
Engine
1.0L turbocharged three-cylinder petrol engine
74kW, 172Nm
Infotainment
8-inch colour touchscreen
Apple CarPlay/Android Auto
Bluetooth connectivity
Safety
AEB
Rear view camera
Lane Keep Assist
Lane Following Assist
Driver Attention Warning
Performance
GT specific body kit and interior
17-inch alloy wheels
Drive modes
Convenience
Push button start/stop
Heated and electric folding side mirrors
LED daytime running lights
GT specific interior wheel, seats and trim
Buy it, Consider it, or Leave it?
Cheap new cars are becoming a rare sight in 2022. The price of purchase and running costs are a top priority for a lot of buyers at the moment too.
If you need a comfortable, reliable and safe daily driver, the Kia Rio is certainly a 'buy' option.
The VW Polo might appeal to buyers who are more image focused, and who prefer a German manufacturer over a Korean one. However, what I would say is that the feature list, design and 7-year warranty are going to be far more noticeable than the 8kw per tonne difference between the two cars.
The Kia Rio would be my pick out of the two cars at this price point - unless you want to spend more on something like a Polo GTi, for a proper amount of hot hatch power.
About the author Cameron is our resident car expert. Aside being a source of knowledge about the automotive industry, he has also driven a wide variety of cars - from a Porsche 911 GT2 RS, through to a 1998 Toyota RAV4.
Kias failed attempt of a hot hatch?
Sucked in by this car by its great looks and great features, I should really have tested it further before I bought one. At 2000 KMs, I had a warning light come on. After a 6 week process through kia servicing, (who were a nightmare to deal with) I finally got it fixed.
Sluggish transmission, over revving issues, not changing gear when it should, kicking, and slow acceleration, this car isn't exciting. As expected with a 1.0L, 3 Cylinder engine. The standard picanto drives better.
It slammed to a stop in a car park with no one in front of me, jolting me forward.
Would not recommend kia to anyone. I always had my doubts regarding a kia. Wish I never bought it.
Build Quality

Value for Money

See all answers
Similar opinion? Write a review on ProductReview.com.au!
I absolutely love my Rio GT
I recently purchased a new Kia Rio GT in Sporty Blue and I absolutely love it! It's fantastic to drive and has excellent engine power, so much so, I often drive the Rio in Eco or Normal mode. If I do need extra power I switch to Sports mode and OMG it's on steroids! I wouldn't say this car is economical on fuel because I'm currently averaging 9.6L per 100kms and as I mentioned, 95% of the time I'm driving in eco or normal mode.
The Rio is relatively light on the steering (it varies with each drive mode) but feels well grounded on the road, esp...
Read more
ecially around corners. My previous car had blind spot monitoring so I was worried I'd miss it since the Rio doesn't have it, however, the vast amount of window visibility makes up for it. In the drivers seat, it is very comfortable and an easy car to drive. I love it. My partner has a Nissan Qashqai SUV and has been driving MY Rio more than his car lately (I'll be putting a stop to that!!!). The Rio is packed with features which I love such as wireless Apple CarPlay (I was told it's wired but it's not), push button wing mirror close/open button (not automatic), fantastic 8" touchscreen Infotainment, rear parking camera/alert sensors and it alerts me when the car ahead is as moved on when stationary at the lights etc.. I was considering the Hyundai i30 but they're common as mud and I am so glad I went with the Rio GT. It looks modern and sporty.
Purchased in at Kia Dealers.
Build Quality

Value for Money

See all answers
Similar opinion? Write a review on ProductReview.com.au!
The car was running fine for the first 2 months. This was purchased new in October 2020. The engine overheats when air con is on. Apple car play always cuts out. It's been towed to Kia twice in a month. Now the car over revs on take off before it hits its gear and also will not reverse. Got towed to Kia again, been there for 3 days without resolution so far. I will never buy a Kia again. As a contractor I am losing income everyday I'm not on the road and this will eventually cost me more than what the car is worth. I will be exercising my rights for a full refund or a brand new car. Unacceptable for a new vehicle.
Purchased in .
Build Quality

Value for Money

See all answers
Similar opinion? Write a review on ProductReview.com.au!
Find out how Kia Rio YB GT-Line compares to other Hatchbacks
Know better, choose better.
Compare all
See all Kia Rio reviews
Questions & Answers
YB GT-Line (2016-2022)
Twice now, the 2022 Kia Rio GT Line has sounded like someone shaking a bucket of bolts under the bonnet. Was shut down immediatley, and ran normally when started again.
Also a throbbing noise that sounds like a ball bearing noise from the front drivers side.
Anyone else have these problems? Has done 6000k
TIA
3 answers
Most likely will be the sound of the cat and metal cooling down after a long run, probably nothing to worry about in the grand scheme of things, direct injection engines are quite noisy in general, bu...
Read more
t the sound you refer to sounds like rapid cooling of metal parts and that can sound like rattling or pinging - completely normal.
I have the 2022 kia rio S, different engine but I get the pinging noise from time to time. Asked the dealer and they said I should try 95+ petrol although the car can takes 91. I did and no more noise...
Read more
, the car also run a lot smoother. I think the engine was tuned to accpet 91 but meant to run with 95+. What petrol do you use?
See all

Kia Rio

questions
Get an answer from our members
Details · 
Category
Cars and Hatchbacks
Starting

Price

$23,090.00
Transmission
Dual-Clutch (DCT)
Drive Type
Front Wheel Drive (FWD)
Fuel Type
Petrol
Wheels
17" Alloy
ANCAP Safety Rating
5 Stars
Fuel Tank

Capacity

45 L
Engine
3 Cylinder 1.0L
Max Power
88kW @ 6300rpm
Max Torque
172Nm @ 1500-4000rpm
Country of Manufacture
South Korea
Manufacturer Warranty
7 year(s)
Release date
Visit official website
Extra Information
Other Hatchbacks
Suzuki Swift
Honda Jazz
Hyundai i30
Kia Picanto
Alfa Romeo Giulietta
See all Hatchbacks ›
ProductReview.com.au has affiliate partnerships. These do not influence our content moderation policies in any way, though ProductReview.com.au may earn commissions for products/services purchased via affiliate links.