1 photo
Mercedes-Benz A-Class A35 AMG 4MATIC W177 (2018-2022)
Also referred to as: Mercedes-Benz A-Class A35 AMG 4MATIC W177 2021 and Mercedes-Benz A-Class A35 AMG 4MATIC W177 2023.
5.0

from 1 review ·

View Statistics
Brand Manager for Mercedes-Benz?
Register now
and take advantage of ProductReview's Brand Management Platform!
Expert Review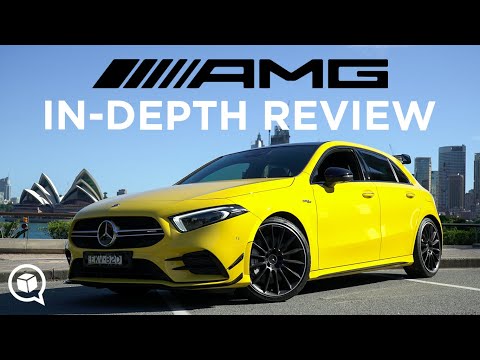 4.4 out of 5 stars
Introduction
You're looking at the most affordable way to get into the Mercedes-AMG family. Let's jump into the driver's seat and discuss if this Mercedes-Benz A35 AMG deserves to have the coveted AMG badge placed on its rear.
It's common to ask the question 'Is the A35 a real AMG? Why is that?
Well, it starts and ends with the engine. This is one of many new AMG's leaving the factory without actually possessing a handbuilt motor.
Mercedes now recognises that more buyers than ever want to own an AMG, but might not be able to afford it or justify needing mountains of horsepower.
As someone with a deep respect and admiration for AMG's products, I was curious to get to the bottom of why Mercedes would even consider placing an AMG badge on a vehicle that did not adhere to the 'one man, one engine' philosophy.
Let's discuss how a simple drive changed my perception of the A35 AMG.
---
Build Quality
4.5 out of 5.
We're starting with one of Mercedes' strengths and selling points: build quality.
It's one of the foundations of the brand and the A35 holds true to that legacy.
That hasn't been the case for me with every Mercedes in recent years, the W205 C63 AMG being an example where I felt they dipped from their usual standard.
However, this time Mercedes has taken the right steps to restore that sensation of heavy doors that sound that satisfying 'thump' when closing them, an expectation of a well-built German car.
It wasn't just the overall sensation of build quality that I enjoyed, it was also the infotainment system, known as 'MBUX', which felt like it was the forefront of development for this interior, rather than a laggy afterthought.
You can read more detail about the infotainment system in the Interior Design section of this review.
There were no awkward squeaks or rattles inside the A35, and overall, the use of materials was thoughtful and well-executed, even if most buttons were made from plastic.
Panels fit together neatly, with minimal gaps in between, however, the only downside of the exterior was the rigidity of the rear wing.
The rear spoiler offers an audible rattle when you close the boot, which may be off-putting to those unfamiliar with having boot-mounted spoilers on their hatchbacks. A small downside to an otherwise high-quality Mercedes product.
I'm sure you'll be largely impressed by how the A-Class feels on your first introduction.
Value for Money
3.8 out of 5.
German performance ain't cheap, and the A35 is no exception.
I mentioned that Mercedes introduced this model for the buyer who may be more price-conscious, but does that mean that the A35 AMG is affordable? Well, kind of.
Starting from $71,609.00, before on-road costs, which should land a base A35 AMG just below $80,000 drive away, is right in the ballpark of its competitors; the BMW 135i xDrive and Audi S3.
What do you get for your hard-earned cash?
Well, in addition to the standard features you'd expect when paying over $60,000 for a hatchback (such as dual-zone climate control, leather seats, keyless entry, and other creature comforts) you also get the following A35 AMG-specific features.
These are, but not limited to, an A35 AMG specific 2.0L turbocharged 4 cylinder motor, AMG body kit, AMG specific suspension and AMG specific instrument cluster information.
Cleaning and Maintenance
4 out of 5.
Mercedes are known for high servicing costs, but their long term servicing support and transparency proves to be a plus here.
To combat this perception, Mercedes have since March 1st 2020 started including a 5-year unlimited kilometre warranty for all passenger vehicles, which includes AMG vehicles.
Mercedes wants to encourage you to commit to a pre-paid servicing plan (called Mercedes Benz Service Plan) for 3 service visits. Service intervals for the A35 AMG are indicated to be either 25,000km/1 year and this plan costs $2,150 for the 3 services.
If you decide to keep your Mercedes for longer than the warranty period, there are capped price servicing options for both minor and major scheduled services, which is nice to see.
If you plan on cleaning your A35 AMG after pushing its limits at the local section of twisty roads, there are three major things to keep in mind.
One, if you selected a non-metallic paint, just remember swirl marks (what gives your paint a spider web effect in direct sunlight), will be far more apparent than metallic paint. That means that this sun-yellow paint you see here, is going to see this effect over time.
Not the end of the world, but it will require a little more effort to clean as time goes on.
Two, if you opted for the AMG aero kit, that makes this A35 AMG we reviewed look like a bonafide hot hatch, you may want to be gentle with that wash mit around these body mounted wings. These are designed to withstand high amounts of airflow around them, but just take extra care when washing and drying these areas.
Three, the interior screen and infotainment screen. Seeing that monolithic screen in the middle is also a touch screen, along with a few other piano black surfaces, you're going to get a lot of fingerprints inside the A35. So you might want to keep a cloth with you, as these fingerprints on the screen really stand out in direct sunlight.
Noise Level
4 out of 5.
Nothing out of the ordinary, even with a track inspired wing hanging off your roof.
Part of being impressed with the build quality means that there was a minimal chance for intrusive road noise to enter the cabin at low speeds, and at highway speeds.
Engines in modern cars are so quiet that most manufacturers are augmenting the sound of the engine into the cabin. Some people are easily annoyed by this, but others simply don't notice or mind.
The engine sound is even more pronounced in 'Sport' and 'Sport Plus' with overrun crackles and 'farts' on upshifts when you decide to bury your foot on that accelerator pedal.
When in 'Sport Plus', suspension can become a bit aggressive on bumpy roads, where you will feel and hear the entire car shake over these sections.
Braking
4.5 out of 5.
A setup sure to impress any driver, this car sports 350 millimetre, 4 pot front brakes - on a vehicle that weighs 1570kg. Especially useful when driving the A35 AMG as it was intended, these brakes are cross-drilled and ventilated to help keep them cool.
Rear brakes are also of decent size, which should help avoid the feeling of 'diving' into corners when increasing brake pressure at higher speeds.
Simply put, these brakes will pull up when you need them too, and stay cooler for longer at your local track day.
Acceleration/Power
4.1 out of 5.
On paper, the A35 isn't as impressive as it's headline-making big brother, the A45 AMG.
But after being behind the wheel, you realise that the A35 is indeed near the top of the pack in its segment, only being beaten by the BMW M135i xDrive.
Possessing 235kW and 400Nm is enough to make launching off from the lights great entertainment for you and your passengers.
It's enough to rocket the A35 through to 100km/h in a claimed 4.7 seconds and will send you all the way through to 250km/h.
A note on the power delivery, I found our tester to be a bit lackluster at launch. In any drive mode, I found that the car seemed to bog down for a moment before pushing you back in your seat.
I'm unsure whether this was due to turbo lag, or a gearbox preservation feature, to avoid damage when being presented with 400Nm at 3,000rpm.
The only way to navigate around this is to use AMG's Race-Start, aka launch control.
To activate 'Race-Start', place the car into Sports Plus then press on the brake and accelerator at the same time. Your instrument cluster flashes red, letting you know you're ready to go, and once you have your revs at the limiter, you simply release the brake.
0-100 in 4.7 seconds. Sure, your car buddies might say that's slow compared to an A45 AMG, or the likes of the latest and greatest supercars. But unless you've ridden in a car that can produce these figures, you haven't the slightest clue as to how fast this actually feels inside the cabin.
Upon releasing the brake, it is well-advised that you stay in auto, and let the car do the talking, as for your first couple of launches, you might not be quick enough to remember to upshift.
Thanks to the 4-Matic AWD system, the A35 remains planted, but even with AWD, the front wheels give a slight chirp, indicating that it is predominantly a front-wheel drive system, that can send power to the rear, and not a fully mechanical system, as found in the Toyota GR Yaris.
With this amount of power, all you want to do is take it to your closest track and unleash the gobs of torque and power, paired with an AWD system, to pull you through corners and straightaways at triple-digit speeds.
This is where the A35 really does earn it's AMG badge.
Gear Shifting
4 out of 5.
Pair the performance we just discussed with a seven-speed dual-clutch transmission and you should have a recipe for success.
I say should, as I was sadly let down by the responsiveness of the paddles on the steering wheel.
This isn't an uncommon phenomenon, where a manufacturer develops a fantastic dual-clutch transmission, which is better paired with its own complex computer program that knows that gearbox better than you do.
So, when you decide you want to shift up/down with those silver paddles behind the wheel, you're met with a feeling of being disconnected.
It was a weird sensation, as I felt how lightning quick the dual-clutch could feel, and how responsive it was to sudden acceleration or how it prepared the car coming out of corners, I was left disappointed when I tried to replicate this feeling with the paddles.
That being said, I'd just recommend leaving the A35 in auto, and only really using the paddles when cruising about.
When in auto, you'll be met with all the benefits of dual-clutch transmission.
Seamless shifts in Comfort, or head banging shifts in Sports Plus, and that familiar dual-clutch exhaust sound between shifts we've all become accustomed to from modern hot hatches.
One thing keeping me from raving about this car in around-town driving, as mentioned above, is the lag on take-off.
You shouldn't be required to use launch control to get moving quickly off from the traffic lights, hence why it becomes annoying to have to wait for a response from the car, especially in a vehicle that's as capable as this.
Suspension
4 out of 5.
Part of spending big bucks on a hot hatch today means you expect your car to perform across a wider range of activities, rather than just being able to skid around in your local car park.
The A35 AMG offers what Mercedes has branded as 'AMG ride control', a set of adaptive shocks that help transform the AMG between hot hatch and just plain old regular hatch.
There are three distinct drive mode settings here, Comfort, Sport, and Sport Plus. You can see how these modes help the car perform in the Handling section of this review.
Each mode slowly increases the stiffness and aims to improve road feel. With Comfort offering the traditional Mercedes plush ride you've come to expect.
Comfort is just fine for the daily commute, ironing out most bumps in your path.
Sport is a progression of comfort and provides a fine balance between road feel for the driver, and less chance of your passenger complaining about the ride.
Meanwhile, Sport Plus is something that I'd reserve for driving by yourself. Suspension feel is overly stiff, but it does allow you to feel everything through your hands, body and spine, which is desirable when you're carving up those mountain roads or when hitting the track.
Fuel Efficiency
3.8 out of 5.
Unfortunately, I only had the keys to the A35 AMG for a day, so I can't advise on how we tested the fuel economy in this vehicle.
Using Mercedes' own figures, we can estimate how much each trip to the pump might cost.
Mercedes advises that the A35 AMG will get 7.4L/100km in its consumption figures.
The A35 has a 51L tank, which means you should expect to pay up to $86.00 everytime you visit the pump, when you run the tank empty.
If you regularly use 'Sports Plus' you're going to be visiting 98 bowser more frequently.
Handling
4.2 out of 5.
Moving on from the suspension feel, let's discuss how the marriage of this engine, drive-train, gearbox, and suspension really measures up.
The A35 AMG has to tick a few boxes for buyers looking for the perfect all-around hatch, which means it has to cater for those who bought an AMG, but don't necessarily want to drive a sports car...yes, really.
That means that handling in Comfort is as predictable as jumping in junior of the range, the A180 hatch.
No, it's not as plush, but it certainly does a decent job of giving drivers the option to relax in their bucket seats, and cruise to the shops and back, without needing to avoid potholes just in case it throws their back out. Comfort mode also keeps the car flat through corners without a noticeable amount of body roll.
On top of comfort, you have a Slippery mode, which takes all the hallmarks of comfort, but on top of this, flattens out the torque delivery from the motor. This allows you to avoid shudder of cold, wet tires in the rain. A nice touch, seeing as not many other AWD hatches offer this feature.
Just in case you did buy an AMG for its sporty drive, you've got three drive modes to help you out there.
Sport is that progression of Comfort I mentioned earlier, it stiffens up the ride and steering, while also poking the transmission and engine with a stick to make it more aggressive.
Sport isn't going to fulfill all of your AMG desires, but it makes for a more entertaining drive when hauling people around with you.
Now Sport Plus is where you want to be to experience the A35 to it's the fullest extent.
This is the full fat flavour of the A35, with a rock hard suspension setup, barking exhaust with its valve open, and gear changes that slap you in the back of the head.
Okay, maybe that was a bit hyperbolic, but you get the idea.
It really does make the A35 AMG feel like a hot hatch, as the more you explore the accelerator, the more you're rewarded with pronounced engine sounds.
Be warned, as the suspension tune can feel overly aggressive when it should be providing a little more nuance around the feedback on bumpier sections. Being fitted with 19 inch wheels doesn't help either.
Liftoff the accelerator, and you're greeted with a 'burble' on overrun; a dying sound profile in modern cars, thanks to ever-growing EU laws around how loud a new car can be.
Steering is at its heaviest here, and you can truly tap into all 235kW and enjoy zipping the German hatch through switchbacks or long straightaways. The A35 shows little to no body roll, and has the feeling that all of your power is planted through all four wheels.
However, I couldn't help but feel that a car designed to be appealing to such a wide range of buyers feels a little compromised.
And this is where Individual mode comes in.
Since some people crave that crashing feeling over bumps and imperfections in the road and others do not, you can customise the drive modes to your desire in Individual.
Want Sport suspension, with all the other features of the Sport plus? Sure!
Want the Comfort engine profile and gearbox, but with Sport Plus suspension? Individual mode can do it, it's really up to you how you want the A35 AMG to handle.
Interior Design
4.3 out of 5.
Customisation is the name of the game for the A35's interior.
There's an ergonomic palm rest, which I initially found to be an entertaining touch, but a welcome one after spending a few minutes with the system.
The touchpad system the entire cabin is shaped around takes centre stage inside the A35.
The amount of customisation, even for someone whose generation is known for being digitally literate, was overwhelming during the first sit in the driver's seat.
From afar, you can see a familiar Mercedes interior - the drive selector on the column, electric seat adjusters on the door and media controls in the centre console. What I wasn't prepared for was how responsive Mercedes' infotainment system was going to be, or how in-depth it was.
I've heard a lot of things about MBUX, which is what Mercedes' calls this screen that stretches from the driver's instrument cluster to the centre screen, interrupted by a black bar that would otherwise be obstructed from your view, thanks to the steering wheel.
Staring back at me was a nearly metre long screen, with my gauges in front of me, and media information to my left, all places where you'd expect to find this sort of information.
What struck me was how responsive MBUX was, with low latency and decent screen clarity making it easy to navigate. The MBUX interface is housed in a centre console design.
The responsiveness of the touchpad, which is similar to one you'd find on a Macbook Pro, provided haptic feedback at every touch, and an audible click, which made it feel like I was using a polished infotainment system.
Here on the screen, you are able to customise how much support you want on your back and side, view your 360-degree camera, customise drive modes, use Apple Car Play or Android Auto, listen to Digital Radio, etc…
On top of the simple functions of the media screen, there are a huge amount of menus below each function.
Take for example the 360 degree camera. If you want the whole view, great. If you want to view just the rear right wheel, sure!
If you want to change the ambient colour of the interior, you can use a color swatch to fine tune exactly which colour you are after.
This is just the centre screen.
Move over to your instrument cluster, and you have more options to customise than a company like Rolls Royce could offer you.
There are several design layouts you can choose from for the instrument cluster, with the one you see in these photos being labelled as 'Super Sport'.
You can also have the design layout display the traditional format of "speed on the left, revs on the right and a digital speedo in the middle".
On your AMG wheel, you have two little glass panels that look like fingerprint scanners. These let you quickly interact with either screen by swiping across them, just like your iPhone.
The instrument cluster is divided into three sections, left, middle and right. Within each section, you can choose trip, media, navigation or AMG specific info, all with their own sub menus.
An absolute stand out feature has to be drive selectors on the steering wheel. These little displays change depending on what mode you've selected, and allow you to customise your drive, on the go.
All this customisation shouldn't put you off considering an A35 AMG, seeing as you can save driver profiles once you find your preferences. The overall message is that this car is meant to feel personal, both inside and out.
The biggest let down in the interior is probably the rear seat room. As someone who's 5 foot 11", I can usually find space in most rear seats, especially hatchbacks with four doors. I thought with four doors, and a proper roof line, we should be able to fit in quite comfortably in the A35, but this wasn't the case.
It might have been the AMG bucket seats, but sitting behind my own seat configurations meant that my leg room was almost nonexistent. A bit claustrophobic for longer drives.
Other than that, the headroom was fine, as well as the actual comfort of the rear seats.
Boot Size
4.2 out of 5.
I found the 370L boot A35 to be a nice surprise after witnessing the cramped and compromised space of the GR Yaris only a few weeks ago.
A deep boot floor and decent entry height means you'll be more than fine loading everyday items in here.
There's no spare tire underneath that boot floor, thanks to having an AWD system, you'll have to make do with a space saver kit. The car does come with a safety kit, including a warning triangle, high visibility gear and first aid kit. A decent inclusion in your daily driver.
The seats do fold in the rear to reveal a total of 1210L, in a 40:20:40 split, which was a pleasant surprise. You can cram 4 people plus a fair amount of luggage in, and if you opt to fit roof racks and rails you could fit even more in a roof pod.
I could see this being focused mainly on the yearly ski trip, and having enough space to make life easier for the rest of the year when you're just out commuting.
Comfort
4.2 out of 5.
I've been mentioning how the A35 has to appeal to a range of drivers and, at heart, it's still your conventional Mercedes.
Not only can you customise your seat a thousand different ways and adjust the telescopic wheel position, but can also adjust any information you deem necessary on your driver display and even change the colour of your interior lighting.
Our tester had additional creature comforts including heated and cooled seats, a sunroof, and additional driver assists that made driving the A35 AMG in an Aussie summer very comfortable.
Don't forget there is an entire drive mode dedicated to comfort too.
You'll be just fine in the A35 AMG, if you plan to be comfortable while driving a Mercedes Benz.
Features
3.9 out of 5.
It's a shame these bucket seats aren't standard, but here is what is standard on the A35 AMG:
Engine
2.0L Turbocharged 4 cylinder, petrol
225kw, 400Nm
0-100km/h in 4.7sec (claimed)
Twin scroll turbocharger
Top speed of 250km/h
7-speed AMG Speedshift Dual Clutch Transmission
Infotainment
MBUX, dual screen infotainment (2 x 10.25" displays)
AMG instrument cluster


Gear indicator and yellow M manual mode
Warm up menu for engine and transmission temperatures
Set up menu, including AMG dynamic select
G force meter
Race timer
Engine data

Mercedes Benz Navigation
Touch-screen central display
Safety
3-stage Electronic Stability Program
Tire pressure warning indicator
LED lights
Active Brake Assist (Automatic Brake Assistance)
Hill Start Assist (Hill Hold)
Blind Sport Assist
Brake pad wear indicator
First-aid kit, warning triangle and Fluoro safety vests
Run-flat tires
Parking sensors front and rear
Traffic sign recognition
Performance
19-inch AMG multi-spoke alloy wheels
AMG Exhaust systen
AMG high-performance brakes
AMG Performance 4MATIC all-wheel drive
AMG RIDE CONTROL sports suspension
AMG speed-sensitive power steering
AMG spoiler lip (roof)
Convenience
Keyless entry,exit and start
40:20:40 split for rear seats
Seat Comfort Package (Electric front seats, heated)
Ambient Lighting (64 colours)
Wireless Charging
Should you buy one?
Visit the showroom.
If you're one for a car that can do the daily drive, and the weekend cruise, this is one of the better large hatches you can buy.
It might not be for everyone, but if you take one for a drive and love the how it handles, and have always wanted to own an AMG, it's a great introduction to the AMG family.
About the author
Cameron is your typical car nut, but also drives and writes about cars for ProductReview.
Questions & Answers
Sorry, there are no questions about Mercedes-Benz A-Class A35 AMG 4MATIC W177 (2018-2022) but you can read 9 questions about Mercedes-Benz A-Class Hatchback.
Get an answer from our members
Details
Compare all 14
Mercedes-Benz A-Class Hatchback
Category
Hatchbacks
Starting

Price

$74,408.00
Transmission
Dual-Clutch (DCT)
Drive Type
All Wheel Drive (AWD)
Fuel Type
Petrol
Wheels
18" Alloy
ANCAP Safety Rating
5 Stars
Fuel Consumption
7.6 L/100km
Fuel Tank

Capacity

51 L
Engine
4 Cylinder 2.0L
Max Power
225kW @ 5500rpm
Max Torque
400Nm @ 1800rpm
Country of Manufacture
Germany
Manufacturer Warranty
3 year(s)
Release date
Compare all 14
Mercedes-Benz A-Class Hatchback
ProductReview.com.au has affiliate partnerships. These do not influence our content moderation policies in any way, though ProductReview.com.au may earn commissions for products/services purchased via affiliate links.