1 photo
Toyota GR Yaris (2020-2022)
Also referred to as: Toyota GR Yaris 2021 and Toyota GR Yaris 2023.
4.5

from 2 reviews ·

View Statistics
Listing monitored by Toyota
Expert Review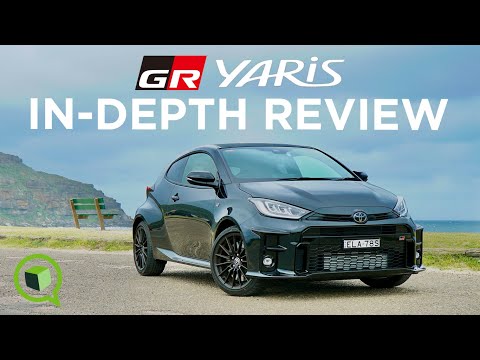 4.7 out of 5 stars
Introduction
This might just be the most anticipated hot hatch of the decade, we've jumped into the driver's seat of the all new 2020 Toyota GR Yaris.
After trawling through images, video clips on YouTube, and finally the first reviews to come out of the UK, I was handed the keys to a brand new GR Yaris to drive over a few days. And not just any GR Yaris, this is one of the first to land on Aussie soil.
Now, why am I so excited to be handed the keys to a Toyota Yaris? Well, there's a bit more to this hatchback than the name suggests.
Ask anyone on the street what they think of a Yaris. First thing that comes to their mind is a 'white good' machine, designed to get you from A to B in the most financially sensible way possible, while also keeping you relatively safe.
Now inform said person on the street that you in fact own a GR Yaris, and you'll most likely get a slightly raised eyebrow as if it's meant to mean something significant.
This is the struggle that Toyota is facing at the moment.
Mercedes' AMG, and BMW's M performance divisions are household brand names at this point. Whereas GR (which stands for Gazoo Racing), isn't quite there yet.
So how did Toyota plan to enter a market where most people would be unsure about committing $49,950 (before on road costs) to a Yaris? Toyota Australia decided to offer the first 1100 units at a significant discount, online. How much of a discount? If you were quick enough to be one of the first 1000 buyers you could score a GR Yaris for $39,000, or score it for $45,950 if you were one of the last 100 who were a bit late to the game.
This car we reviewed is one of those first 1000 units.
Inform someone who's done some reading about this new rally homologation car, that you have the keys to this car, you'll be met with enthusiasm and shock like no other.
A homologation car simply means that Toyota was required to produce a certain number of road going variants of their race prepped vehicle in order to meet requirements necessary to qualify to race this particular Yaris competitively.
This means a lot to those who will get overly excited seeing one for the first time. And especially means a lot to those patiently waiting for their GR Yaris to arrive, some time in early 2021. Those waiting for their order will approach you to find out how you were one of the lucky few to get your Yaris so soon.
If you're one of the lucky few who have a GR Yaris sitting in your driveway in late 2020, be prepared to make some new friends and have eyes locked on to you as if you've swapped bodies with Brad Pitt.
Shock is the other component to these reactions, usually in the shape of a guy snapping their necks, nearly running into street signs, just to catch a glimpse of what they can only process as a mirage. This is no mirage, the 2020 Toyota GR Yaris has landed on Aussie roads, and is slowly becoming a reality.
In all my years of driving exotic cars and other flashy sports cars, I have never received such reception for a car.
Just to be clear, this is not your normal hot hatch, it is something else. A car built with such precision and detail, it has no business being priced from $39,000 (when it launched).
Not to mention that the pictures really do match the looks in real life. Our test car was optioned in 'Tarmac Black', one of three colours (your other two colours include Glacier White and Feverish Red) which are your only options available at launch. A colour I personally did not warm to in the launch photos, however, in various lights and locations, it has quickly become a favourite.
No matter what colour you go for, the actual design of the GR Yaris will demand attention. Whether it's the roofline that was lowered 95mm, the 1805mm rear width of the car pushing the wheels to sit almost outside the body of the car, or that menacing front grill.
What makes the GR Yaris such a standout in terms of price, performance and build quality?
Let's discuss.
---
Build Quality
4.2 out of 5. Precision engineering paired with familar Toyota quality.
It's no secret that Toyota knows how to build cars. As Australia's most popular manufacturer by volume, Toyota is able to meet demand on time (mostly) with little to no defects and still retain a reputation built on reliability.
The build quality on the GR Yaris is a cut above everything else Toyota makes. The amount of detail that went into the research and development of this car goes beyond most of its competitors.
To understand the build quality, you have to understand that this car isn't a 'hotted-up' Yaris. It doesn't even share the same chassis. Instead, it simply shares the front and rear lights.
The GR Yaris was developed in the opposite fashion to most hot hatches. First came the development of the rally car, then Toyota was challenged to turn the rally car into a street car, not the other way around.
This meant that the GR Yaris received 259 additional weld points compared to the normal Yaris. What relevance does this have to you? Well, it results in a car that feels incredibly rigid, helping to prevent many squeaks and rattles usually heard in more price friendly cars.
With a carbon composite roof, which itself helps save 3.5kg, aluminum bonnet, doors and hatch and Enkei manufactured wheels, the GR Yaris feels premium on the outside. All body panels match up perfectly, with paint and finish near perfect for a mass produced car.
The GR Yaris takes many more hours to produce over a standard Yaris, so there is almost a guarantee that greater attention to detail is provided, seeing as technicians are spending a lot longer with each car built than they would with a standard Toyota product.
Inside, the build quality has dramatically improved over previous Toyota interiors. Described as 'spartan' on the Toyota Australia website, I believe this interior is anything but.
If you've sat in a recently built Toyota product, the inside of the GR Yaris will feel quite familiar.
In Australia, we will only receive one model of the GR Yaris, unlike other parts of the UK and Japan. Our variant is optioned with the 'convenience package', meaning it's pretty well optioned with a few creature comforts, including heated seats and steering wheel, radar cruise control and keyless entry/exit and start.
The GR specific seats are a standout in comfort and in its ability to keep you and your passenger secure. As a 'one-piece' seat there is no adjustable head-rest, but this does lead to a more sturdy and solid feeling bucket seat. The stitching on the seats, doors, shifter and handbrake is all very precise and straight.
With alcantara adorning the door inserts, and soft touch plastics mounted in most areas of the cabin, the GR Yaris feels like a premium product.
I heard almost no rattles over several days of driving, thanks to that extra rigid body shell and chassis. The interior felt solid, despite containing a lot of plastic surfaces, which mostly felt nice to the touch. If you're against 'scratchy' hard plastic surfaces, you're not going to fall in love with the interior.
Value for Money
4 out of 5. If you got in early, great! If you're buying one now, not so lucky.
Here is where the GR Yaris becomes a bit of a muddy topic, when it comes to value for money.
As tested, this GR Yaris was $39,000 drive away. Immense value for money for a car with 200kW, a 0-100km/h time in 5.2 seconds (claimed), mechanical all wheel drive and equipped with features you'd struggle to find on cars at this price point.
Now at the RRP of $49,950 (before on road costs), this is where the GR Yaris falls into larger hot hatch territory.
The GR Yaris packs an incredible punch when it comes to its size and relative performance, it'll embarrass almost all cars you're likely to come across in your area.
When considering the GR Yaris at $49,950, you are quickly approaching used Volkswagen Golf R money, with some of these cars still possessing a valid warranty. You would even have the option to purchase a Golf R with VW's DSG (Dual clutch transmission), if you prefer automatics.
If you want a brand new car to enter the 200kW hot hatch club with, you can go and order an i30N with a luxury pack installed, a Golf GTi TCR (auto only) or a Honda Civic Type R (manual only), meaning you'll get all the features the GR Yaris has, except all wheel drive.
All of these competitors in this price bracket have rear doors and a larger boot, offering a decent alternative to the road going rally car.
You'll face the question, do I need the extra seats and boot space? If not, the GR Yaris represents a unique segment of small hatches. Plus, you'll enjoy the benefits of not lugging around all that extra weight too, as the GR only weighs in at 1280kg, where its rivals usually come in at the 1400kg+ mark.
Value for money is subjective here if you plan on paying the full price. However, if you managed to grab one at $39,000, you almost certainly stole that car for the price.
Cleaning and Maintenance
4.5 out of 5. Toyota servicing costs are quite reasonable, just be careful when cleaning that carbon roof.
Cleaning the GR Yaris seems pretty straightforward, and it is. Except for the carbon roof.
Look after the GR Yaris as you would any car, wash, rinse, wax and repeat. Just don't think about waxing that roof.
The GR Yaris' roof is made of a carbon composite, covered in a protective 'skin'/wrap. Toyota advises in their manual not to wash the roof with anything other than water. So be aware of what type of car cleaning soap you use when washing this car.
Damaging the wrap on the carbon roof is not the end of the world, but it's not the most simple of items to remove and replace on the vehicle.
Watch out for those gorgeous Enkei wheels when parking, as these are specifically designed for the GR Yaris and will not be cheap to replace.
Part of buying a Toyota is the very reasonable cost of servicing. Seeing as this is not a normal Toyota, and is essentially a rally car for the road with a highly complex engine and drivetrain system, out of warranty servicing into the future may get expensive.
But for now, under warranty, servicing a GR Yaris is as cheap as servicing your grandma's Yaris. Just ensure you keep on top of the recommended service intervals.
Noise Level
4.3 out of 5. Cabin noise can be low when you want it to be, or louder if you plant your right foot down.
I'm usually one for loud exhausts and screaming engines, however the GR Yaris has changed my mind on this.
With cabin noise this quiet during normal driving conditions, you'd be surprised there was a motor designed to compete in the World Rally Championship under the bonnet.
Toyota Australia claims to have 'active noise cancelling' operating throughout the cabin. For when you want some theatre, some artificially generated sound is pumped into the cabin to 'enhance' the driving experience.
Motoring around peak hour traffic and highway driving, the GR Yaris is a pleasant place to be, with little intrusion from road noise and minimal interference from wind noise.
For those spirited driving moments, when you spot a gap between cars, or find that twisty of road down from your home, the engine comes alive, along with an accompanying 'whoosh' from the turbo charger. Almost as if to egg you on and do it again.
Your non-car loving passengers will appreciate the ability of a car like this to become quite civilised and relaxed when you don't feel like driving as if you were on a rally stage. I can't say the same for when you want to unleash all 200kW in track mode.
Braking
4.5 out of 5. Leads the small hot hatch segment in brake size, a strong suit for the GR.
Usually smaller hot hatches suffer from underperforming brakes, seeing as they have less mass to slow down. Which is fine for day to day driving, but after several punishing laps around a track, or up and down some recreational roads, you'll find them wear and become less effective once heat builds up.
This is something the GR Yaris does not suffer from.
Brakes are smooth to apply with the pedal being engineered to minimise 'dead' travel to allow for smooth and progressive braking.
Thanks to a whopping 356mm in diameter, four pot grooved set of front brakes, you'll have no problem worrying about the ability to slow down the GR Yaris, both for when you need to watch out for people crossing the street, or slowing down for turn 2 at Sydney Motorsport Park.
The car is equipped with automatic emergency braking, which can be overly sensitive when it comes to tight roads with cars parked on either side, or when approaching a pedestrian island in the middle of the road.
Driving around my local area involves driving down some narrow street, or streets with parked cars occupying most of the lane. Manoeuvring through these streets did activate the automatic hazard detection system, screaming at me to brake, even though I was actually in no real danger. The car never braked for me during this warning, which was reassuring that the Yaris was on the lookout for hazards, but not trying to take over the situation unless necessary.
Acceleration/Power
4.1 out of 5. 5.2 seconds (claimed) from 0-100km/h.
If you're in the market for a GR Yaris, it's most likely because of this category.
With 200kW of power, 370Nm of torque and a claimed 0-100km/h time of 5.2 seconds, these are the stats you'll use to brag to your friends when you receive the classic line: 'but it's just a Yaris'.
Power delivery is effortless and torque filled. However, bringing revs up from 0 rpm does take a little convincing of the accelerator pedal, thanks to a larger flywheel traditionally found on 3 cylinder motors, to help prevent revs dropping too quickly between gear shifts.
Yes, this power is derived from a 1.6L 3-cylinder motor, but 3 cylinders is no longer the economy box engine of choice.
The 3-cylinder motor is quickly becoming the hot hatch motor of choice, in order to meet strict european emission regulations, allow for more efficient packaging in the engine bay, and ultimately produce a more unique sound profile.
Once you get moving in the GR Yaris, you are pushed back into your seat, and are greeted by all 200kW with very linear power delivery, making it exciting and thrilling to send the RPM needle through to the redline.
Unlike many smaller turbocharged engines, the GR Yaris keeps on delivering power up until 6,500rpm, which is almost touching redline. Meaning you aren't short shifting to avoid 'running out of puff'.
Another thing to note is how comfortable the GR Yaris sits across the rev range. There is no strain when you have the engine placed at 4,000rpm. This engine genuinely feels like it wants to be revved out.
Thanks to the selectable drive modes (Normal, Sport and Track), which affect the distribution of power between the front and rear axles, you can experience greater cornering ability in 'Sport' (with 30% of power at the front axles, and 70% of power at the rear). Or a traditional AWD launch and stability experience with 'Track' (a 50/50 distribution of power between the front and rear). Or simply switch into 'Normal' (60% of power at the front axles, and 40% of power at the rear), for greater grip over the front tires.
With a quoted time of 5.2 seconds to 100km/h, you're definitely going to feel like you're moving. And just like some european manufacturers, like VW and Porsche, this figure is most likely understated, with some owners already publishing their own 0-100km/h times in the high 4's.
Gear Shifting
4.5 out of 5. You can tell a lot of time went into developing this shifter.
Gear shifts are unmatched by rivals. A level of precision I've really only replicated in something like a Porsche.
In this price bracket, the Honda Civic Type R is reported to have similar precision in its shifting experience - we will wait and see for ourselves to report on this.
This is my absolute favourite feature of the interior. Changing gears is a treat, and not only that, but you can feel the linkages beneath the shifter work as you shift, making you feel more involved with the car itself.
Helping with involvement of gearshifts is the fact that the gear selector has been raised to decrease the space between left hand on the wheel and shifter.
And if you're not entirely confident in the heel and toe method of rev matching, you can turn on iMT (intelligent manual transmission aka automatic rev matching), which takes the guesswork out of shifting down through the gears. Helping you take control of the vehicle through corners.
Launching and accelerating can be a little difficult to execute smoothly, seeing how precise the clutch 'bite point' is (this becomes a good thing for when you're on the move).
The larger flywheel only seems to get in the way when trying to get off the line, and awkward low speed maneuvering, but once you get above 5km/h, you're in the clear.
Suspension
4.5 out of 5. Irons out imperfections in the road, without sacrificing handling.
This is a quality of the car that appears to shine the most to someone like myself, who has been driving a hot hatch for the past 10 years.
Initially, I was cautious of where I was placing the car on the road, avoiding the smallest of imperfections, and almost coming to a complete stop over speed bumps, thanks to my muscle memory of driving an older hot hatch with suspension seemingly designed to destroy my back.
After a few moments behind the wheel, it becomes apparent that the GR Yaris has a finely tuned suspension system that feels capable of keeping the car incredibly flat through sweeping turns, but also supple enough to iron out those smaller potholes on the daily commute.
The suspension in this car sits the GR a little higher than its rivals, when it comes to space between the body and tire. But this is a good thing for anyone who has any interest in spending lots of time in this car.
You don't feel compromised in this car to travel over speed bumps or enter driveways, instead, you are given reassurance that this Yaris could genuinely dominate an unsealed rally course on the weekend, while also allowing you to drive to work during the week.
Fuel Efficiency
3.5 out of 5. It's no Prius, but at least you can try and save some fuel, if you want to drive sheepishly.
Not a strong suit of the GR Yaris, as long as you have some intention of using that motorsport developed engine.
I averaged around 10.6L/100km in predominantly urban driving environments, which means you'll most likely be visiting the pump once a week at a minimum to keep that 50L fuel tank filled.
At the time of writing this review I had covered a couple of hundred kilometres, where I was required to fill the GR Yaris twice, from half-empty, with 98 octane fuel, for around $44 each visit.
After refuelling, my GR Yaris informed me I had 404km of range in a full tank, most likely based on the extra-urban driving I had completed recently.
You can expect a full tank to cost around $90, depending on your local 98 octane fuel prices.
That's the small price to pay for a car like this. And seeing that this was consuming 10.6L on average over several days of spirited driving, it's not unreasonable. Just don't expect to win the award for the lowest fuel bill when comparing it to your friend's Toyota.
Handling
4.5 out of 5. MacPherson's on the front, double wishbones on the rear. Yes, that's a very good thing.
As mentioned in the suspension component of this review, handling was impressive to say the least.
The GR sits on non-adjustable shocks and springs, missing out on those complicated adjustable magnetic shocks that vehicles like the VW Golf R rely on to provide a comfortable ride.
Instead, the GR offers a dial, placed just in front of the gear knob, which allows you to distribute power between the front and rear, on demand, with three driving modes available. The ability to shift where your power hits the road is an incredible feature not many other manufacturers offer.
Usually, changing drive modes result in a heavier steering feel and a rock hard suspension just to get the more ideal track setting. This is where the GR Yaris stands out. If you feel like driving home in track mode, your passenger will never notice the change,
It's not just this all wheel drive system helping the GR Yaris handle through the tightest of corners, it's the suspension set up too.
With a MacPherson strut up on the front, and double wishbone suspension on at the rear, you've got a more than capable car, with suspension that will impress many who know how rare it is to find a double wishbone setup in a hot hatch, let alone a Yaris.
The steering feel is responsive, but does not strain you in day-to-day driving. The feedback from the front wheels is accurate, allowing you to whisk through roundabouts and tight laneways, without guessing where your wheels are placed.
You can get a bit more daring with your GR Yaris with a single press of the traction control button to quickly disable safety aids, or if you're feeling extra brave, a full long press disables traction control entirely.
The GR would benefit from a sticker set of tires over the standard Dunlop tires supplied from Toyota. You're not going to notice this in day-to-day driving but it may become an issue if you plan on driving this car to its limit. Do consider changing the tires if you're a regular at your local race track.
Interior Design
4 out of 5. Controls are easy to access, but that central screen and rear vision mirror create a bit of a blindspot.
Toyota's latest generation of interior design has won me over.
No longer would I consider Toyota interiors a boring place to be, instead, they look and feel premium. The cabin is comfortable and familiar with button placement exactly where you expect them to be. With Toyota taking that extra step by ensuring that the driver is able to control the car with little distraction.
Nothing was needlessly complicated, and all made logical sense to find buttons that weren't placed away into a user interface in a central screen.
Mirror and window controls have been raised to match the natural reach of your hand from the steering wheel, which made parking and driving in tight spaces a breeze. I'd suggest getting familiar with the mirror controls to keep an eye on those massive rear haunches in difficult parking situations.
The dual zone climate control system was easily navigated and adjusted on the fly. The instrument cluster provides the bare minimum necessary for a performance car. I rarely found the need to be looking at the dials themselves, thanks to a full colour heads up display that provided information on speed, revs, shift indicator and speed sign recognition (a helpful tool to ensure help increase the shelf life of your license).
Note that the heads-up display becomes a bit more difficult to read if you're regularly wearing polarised glasses.
A small but meaningful touch found inside the GR, a 'Developed for FIA WRC' sticker, just above the handbrake gives your car the seal of approval that this is in fact a real homologation rally car.
Toyota still insists on providing their customers with a comprehensive infotainment system, which is good for those who don't own a smartphone.
Otherwise, I found myself plugging in and frequenting Apple CarPlay, which was seamless as always.
Using Toyota's native navigation system meant it would utilise the heads-up display to project driving directions via GPS. However, when using Apple CarPlay or Android Auto, you were confined to the central screen, with no driving directions displayed on the heads-up unit.
If you love listening to your podcasts or music while driving , the JBL sound system provides clear and pronounced audio. We did note that audio did feel 'front heavy' inside the cabin. This was easy to adjust, as Toyota allows you to change the source of your audio from inside the cabin, via the infotainment unit.
Driver safety aids are easily controlled from the steering wheel, meaning you don't have to be distracted trying to engage the radar cruise control system, or disable lane keep assist.
The main issue with the interior of the GR Yaris is the placement of the central screen and rear vision mirror. With the high placement of the screen up onto the dashboard, and the lower placement of the mirror, these components compete for your central vision from inside the car.Add a dash-cam here and you've almost entirely blocked your vision in the middle of the windshield. Something that becomes very apparent when maneuvering through sharp turns.
Boot Size
3.5 out of 5. There's a price to pay for a mechanical all wheel drive system, and it's your boot that's forced sacrific the most room for it.
A crippling feature of the GR Yaris.
If you plan to do the family shop or regularly need to cart around larger items, you'll find you're going to have to live with one of the rear seats folded down most of the time.
Personally, I don't require a lot of space, and usually gauge the day to day practicality of a car with it comfortably holding all of my camera equipment (consisting of a large foam carrying case, a large backpack, and a tripod), which the GR carried with relative ease.
If you have a small family and need to drop kids off to school, you might find the GR Yaris a bit of a struggle, especially if you signed up to those Cello classes.
The GR Yaris claims to have 141L of boot space in the back, with most of the usable space occupied by the mechanical rear differential. Unlike its front wheel drive cousin, the normal Toyota Yaris, the GR Yaris occupies it's space under the boot floor with a battery and a tire repair kit. Sure this helps with weight distribution, but it'll mean you'll need to call a tow truck if you get a flat.
Comfort
4 out of 5. Very comfortable for two people, if you're carrying four, your rear passengers are going to suffer.
If rally car drivers had it this easy, they'd never want to get out of the car.
Toyota really did a stellar job when it came to comfort in the GR Yaris.
Sound deadening along with active noise cancelling creates a calm and relaxing atmosphere. I found, even though I was in the heart of Sydney peak hour traffic, I could fall back into my seat and breathe. No droning exhaust or heavily vibrating engine to occupy your thoughts while covering 40 metres of road in 1 hour.
The front bucket seats do a great job to 'hug' you and keep your hips and torso aligned, helping alleviate that lower back pain you usually can find when driving a manual hot hatch.
And for when you really want to switch off, radar cruise is extremely easy to operate, and a treat to have on a manual transmission vehicle.
Another weird feature on a manual transmission is the automatic start/stop functionality when you're waiting for a traffic light, or stuck in bumper to bumper traffic. It only activates when you come to a complete stop and place the car into neutral.
Automatic start/stop is a different sensation in a manual car as you believe you've stalled for a moment, only for the engine to fire back into life just in time for you to select 1st gear.
Keyless entry and exit was effortless and worked every time during my review. I also really appreciated the addition of a button next to the boot release that allowed you to lock and unlock the car from the rear.
Now if you'd sat in the back of this GR Yaris during my review, you'll strongly disagree with me on the GR Yaris being a comfortable car. Thanks to that sporty roofline, anyone above 5 foot 5" is going to struggle to avoid their heads pressing against the roof.
Features
3.8 out of 5. A great number of features at $39,000, but at the RRP of $49,950 before on roads, you'd hope you would have most of these features for that price.
Peppered throughout this review have been mentions of safety features and mechanical hardware sure to make any car enthusiast drool.
Here's what you're getting, when you order a 2020 Toyota GR Yaris:
Engine
Petrol 1.6L 3-Cylinder turbocharged engine
Producing 200 kW / 270 Nm
0-100km/h in 5.2 seconds (claimed)
Top speed of 230km/h
Infotainment
4.2" full colour central screen
Digital radio (DAB+)
Eight Speaker JBL speaker system
Apple Car Play and Android Auto
Safety
Toyota Safety Sense
Speed sign recognition
Automatic Brake Detection and Operation
Including detection of pedestrians, cyclists and intersections
Radar Cruise Control
Lane Keep Assist and Lane Keep Assist Operation
Reversing Camera with dynamic guidelines
Blind Spot Assist
Automatic folding side mirrors
GR-Four All Wheel Drive
Mechanical differentials, both front and rear
Performance
iMT (Intelligent Manual Transmission
Automatic Rev Matching
Carbon fibre reinforced polymer roof
KYB shock absorbers
18 inch alloy wheels
Convenience
Keyless Entry
Push Button Start (Keyless Start)
Keyless entry and locking (including a button on the boot for keyless entry and locking)
Full colour heads-up display
Heated seats and steering wheel
Should you buy one?
Yes. That's the short answer.
You won't find many new cars that can replicate the feelings of driving a GR Yaris, especially under $60,000. This might just be the 'king' of the hot hatches you can buy today.
With Toyota reliability, warranty and the lengths Toyota went to when developing this car for road use, you'll be hard pressed to replicate the feeling of driving a rally homologation car on the street.
If you're on the fence about buying one, go out and drive one...if you can (most Toyota dealerships most likely won't have one to test drive due to the high demand for these cars).
When you do drive one, you'll see why it's getting all the praise from journalists around the world. If you can't wait to get behind the wheel before you buy, you won't regret putting that deposit down.
It's not every day that you'll experience a car quite like this.
About the author
Cameron drives and writes about cars for ProductReview.
I purchased the Toyota Yaris GR Rallye. Number 85 of 200 in Australia.
This little pocket rocket will blow your socks off!
It has three modes: Regular, sport and rally. To be honest, unless you were doing mountain driving and the speed limit was over 80km regular packs enough punch and sport is rarely used.
I don't require the rear seats so they're folded down giving me a huge boot.
I drive daily to work but as my drive is mostly highway, I don't mind the mandatory 6 speed manual gears.
I love the look. Especially the rear end which really d...
Read more
oes look like a rally car. If I were to fault one thing, it would be the seat has no memory function. As it's a coupe, you do need to move the seat sometimes and I find it difficult to get it right again. With a price tag of near on $60,000, it's not for everyone but if your looking for power and handling, this is the car for you. That is if you can lay your hands on one.
Purchased in at Toyota Dealers for $59,000.
Similar opinion? Write a review on ProductReview.com.au!
I was one of the people to jump on the special offer provided by Toyota for the first 1,000 GR Yarises at $39,900. For that money I think this car is pretty damn amazing, especially when the top-end "normal" Yaris is almost the same price.
I am not a huge car person, my main and daily driver for the last 13 years was another Yaris (1.5L 2007 YRS) which I liked and have reviewed some years ago. I have also driven higher-end cars for an extended period of time to compare the GR Yaris to, these cars include: 2013 BMW X5 , 2017 VW Golf TSI, 2015 H...
Read more
uyndai Tucson, 2018 Tesla Model S. Still moving into a 200kW hot-hatch, that supposedly has the most amount of power to weight ratio in a production car, as your daily was/is a bit of leap. Maybe this is a good thing as you get to read an average-car-person review of a car for petrol heads. The very first impression was it feels like a hybrid of BMW X5 and Tesla Model S - a bit of a strange mix. The looks: I really like it, it's in the sport car territory but not enough for people to be actually looking at you. The front with it's wide bottom grille feels like someone put a mouthguard into a Corolla. I got the all black version, it only comes in 3 variations: white with black roof, red with a black a roof, and of course black with a black roof. The reason the roof is always black is because it's carbon fiber, apparently to reduce the weight of the car. I've added some pictures that can be seen at the bottom of the review. The interior:
Purchased in at Toyota Dealers for $39,000.
Similar opinion? Write a review on ProductReview.com.au!
Questions & Answers
Sorry, there are no questions yet.
Get an answer from our members and Toyota representatives
Details
| | |
| --- | --- |
| Category | Hatchbacks |
| Transmission | Manual |
| Drive Type | All Wheel Drive (AWD) |
| Fuel Type | Petrol |
| Wheels | 18" Alloy |
| Seats | 4 |
| Fuel Consumption | 7.6 L/100km |
| Engine | 3 Cylinder 1.6L |
| Engine Code | G16E-GTS |
| Max Power | 200kW |
| Max Torque | 370Nm |
| Release date | |
ProductReview.com.au has affiliate partnerships. These do not influence our content moderation policies in any way, though ProductReview.com.au may earn commissions for products/services purchased via affiliate links.